Sports Info Solutions Announces Partnership With Canadian Elite Basketball League
Press Release
•
May 31, 2022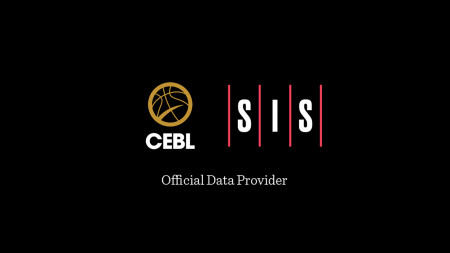 TORONTO, May 31, 2022 (Newswire.com) - The Canadian Elite Basketball League (CEBL), Canada's preeminent professional basketball league and SIS, a leading sports data and analytics provider, today announced a partnership naming SIS as an Official Data Provider of the CEBL.
As part of the partnership, SIS will collect, analyze and distribute real-time CEBL data. SIS will support all aspects of the CEBL's data requirements, inclusive of ensuring an innovating experience surrounding the Elam Ending, which the CEBL is bringing back to continue creating exciting finishes to CEBL games.
Dan Hannigan-Daley, CEO of Sports Info Solutions, said, "At SIS, we're big believers in the continued evolution of sports and as such are excited to support the Canadian Elite Basketball League and the Elam Ending at large, grow as a key component of basketball."
SIS will also amplify the CEBL within the recently regulated sports betting industry in both Canada and the U.S.
"The betting opportunities and interest surrounding this innovative way of determining basketball wins and losses is very compelling to us as a driver of advanced fan engagement," Hannigan-Daley said.
"We are very excited to find a partner in SIS that truly supports our efforts to grow the game domestically and internationally and more importantly create a betting solution to further enhance the great benefits of the Elam Ending," said Mike Morreale, Commissioner of the CEBL. "I can't wait to see how SIS helps propel us forward through their innovation to new fans across the globe."
The partnership was orchestrated by ThePostGame, the U.S.-based sports consultancy and content studio, which is working with the CEBL on betting and media rights strategies.
SIS will support the CEBL's integrity and social responsibility efforts, including efforts regarding bet types, anti-piracy, and problem gambling, alongside partner operators and those offering wagering on the CEBL.
###
About SIS
Pioneers in the sports data space since 2002, their mission is to enrich and optimize the decision-making process for sports teams, sports leagues, sportsbooks, and sports fans. Learn more at www.sportsinfosolutions.com.
About CEBL
A league created by Canadians for Canadians, the CEBL is Canada's pre-eminent professional basketball league. The league has the highest percentage of Canadian players of any professional league in the country, with 75 percent of its rosters being Canadian. Players bring experience from the NBA, NBA G League, top international leagues, the Canadian National team program, and top NCAA programs as well as U SPORTS. The only First Division Professional League Partner of Canada Basketball, the CEBL season runs from May through August.
CONTACT:
SIS
Kelsea Benoit
kbenoit@sportsinfosolutions.com
Source: Sports Info Solutions