Spark Hire Awarded With Six G2 Crowd Spring 2019 Awards and Recognition as Industry Leader
Press Release
•
updated: Apr 22, 2019
The world's most popular and highest rated video interviewing platform receives six G2 Crowd awards in the video interviewing category and is named the leader of the industry.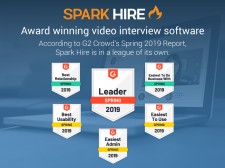 CHICAGO, April 22, 2019 (Newswire.com) - ​Spark Hire (https://www.sparkhire.com), the leading video interviewing platform with more than 5,000 customers in over 100 countries, has been named the Market Leader in the video interview industry by G2 Crowd, a popular software user review site.
Spark Hire's performance, based on customer reviews, also earned the company top marks in six video interviewing categories:
Easiest to Use
Best Admin
Best Usability
Best Meets Requirements
Best Relationships with Customers
Easiest to Do Business With
"We were ecstatic to see the results of G2 Crowd's 2019 Video Interviewing Index Report," said Josh Tolan, CEO of Spark Hire. "Our goal is to be the best company our customers ever do business with and winning these awards directly from users tells us we are achieving that goal. We'll use this recognition to fuel our quest for greatness and continually improve our customers' experiences."
Spark Hire's Usability ratings were highlighted by "Ease of Use," which scored 95 percent compared to the category average of 90 percent, and Spark Hire's "Meets Requirements" was 93 percent compared to the category average of 90 percent.
Spark Hire's Relationship ratings were highlighted by "Ease of Doing Business With," which scored 99 percent compared to the category average of 92 percent, and "Quality of Support" was 98 percent compared to the category average of 93 percent.
"Spark Hire recently achieved several awards in our Spring 2019 Video Interviewing Index Reports," said Marty Duffy, Vice President of Research, G2 Crowd. "These rankings can be largely attributed to their high scores in the relationship and usability reports; making for very happy customers."
The Relationship and Usability Reports are based on ratings by business professionals. Spark Hire received ten or more reviews and five responses for each of the relationship-related questions to qualify for inclusion in the Relationship and Usability Indexes.
"Rankings on G2 Crowd reports are based on data provided to us by real users," said Michael Fauscette, Chief Research Officer, G2 Crowd. "We are excited to share the achievements of the products ranked on our site because they represent the voice of the user and offer terrific insights to potential buyers around the world."
To learn more about Spark Hire's video interviewing solution, request a demo here.
About Spark Hire
Spark Hire is an easy-to-use video interviewing platform with 5,000-plus customers conducting video interviews in over 100 countries. Since launching in 2012, Spark Hire has become the fastest-growing video interviewing platform. Organizations of all sizes are utilizing Spark Hire to make better hires faster than ever before. Pricing for unlimited video interviews starts as low as $49 per month with no contracts and no setup fees. Learn more on sparkhire.com.
About G2 Crowd
G2 Crowd, the world's leading business solution review platform, leverages more than 381,000 user reviews to drive better purchasing decisions. Business professionals, buyers, investors, and analysts use the site to compare and select the best software and services based on peer reviews and synthesized social data. Every month, more than one million people visit G2 Crowd's site to gain unique insights.
Source: Spark Hire
Additional Links