Spark Hire and Comeet Join Forces to Revolutionize Talent Acquisition Solutions
Press Release
•
Jun 8, 2023
HR Tech Leaders Merge to Create an Unmatched End-to-End Hiring Process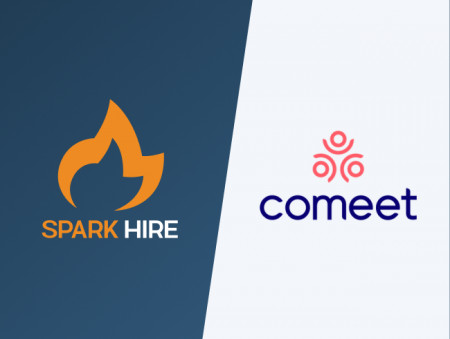 NORTHBROOK, Ill., June 8, 2023 (Newswire.com) - Spark Hire, the world's leading video interview platform, is integrating Comeet, a renowned ATS and collaborative recruitment software company, into its suite of product offerings.
This strategic alliance brings together cutting-edge technologies and expertise, creating an unparalleled suite of talent acquisition solutions. The transaction, facilitated by Boathouse Capital, a prominent private equity firm and existing investor in Spark Hire, marks a significant milestone in the evolution of both companies.
Spark Hire, founded in 2012, helps thousands of organizations in more than 100 countries improve speed to hire. The platform provides the ability to screen more candidates with greater talent identification accuracy, collaborate more effectively with hiring stakeholders, and extend offers to top candidates faster.
Spark Hire continues to develop additions to its solutions portfolio that will streamline more parts of the hiring process for mid-market companies.
Comeet perfectly fits the bill as one of these additions. Established in 2013, Comeet has been at the forefront of applicant tracking and candidate management platforms and aligns with Spark Hire's mission to revolutionize the end-to-end hiring process. Renowned enterprises such as KPMG, Fiverr, and Monday.com rely on Comeet's innovative approach to streamline and optimize their hiring processes.
The merger between Spark Hire and Comeet leverages synergies between the two companies. With shared target markets and complementary technologies, the combined entity will serve an extensive customer base of over 7,000 companies.
This integration positions Spark Hire to deliver the most comprehensive suite of recruiting and hiring solutions in the talent acquisition industry. Following the merger, both products and brands will continue to operate independently, ensuring a seamless experience for our valued customers.
"This partnership with Comeet represents a strategic opportunity for Spark Hire," said Josh Tolan, CEO of Spark Hire.
"We are excited to join forces with a company that has a strong international presence, a highly-rated applicant tracking system, and a track record of exceptional customer satisfaction. Together, we will continue to innovate and provide our customers with unrivaled talent acquisition solutions." ~Josh Tolan, CEO of Spark Hire
Omer Tadjer, co-founder and CEO of Comeet, added, "We have always been committed to empowering talent acquisition leaders and revolutionizing the hiring process. This merger with Spark Hire enables us to accelerate our mission, leveraging their expertise and resources to deliver even greater value to our customers."
This merger represents a transformative step in the talent acquisition landscape. Spark Hire and Comeet are united by their shared vision of driving the industry forward through innovation and customer-centric solutions.
For more information, updates, and inquiries, please contact pr@sparkhire.com.
_____
About Spark Hire
Spark Hire helps thousands of organizations make better, more collaborative, and quicker hiring decisions. More than 6,000 organizations have interviewed millions of candidates across 100+ countries on Spark Hire. With the easiest-to-use product, unmatched customer service, and fair and transparent pricing, Spark Hire has become the most popular and #1-rated video interview platform on the market.
About Comeet
Comeet is an award-winning applicant tracking and candidate management platform (ATS) used by forward-thinking, mid-market, and enterprise customers (KPMG, Fiverr, Monday.com, and more) around the world. Founded in 2013 by Omer Tadjer, Tommy Dikerman, and Omer Gottlieb, who saw the need for a better way to hire, Comeet is designed to make hiring more efficient, effective, and enjoyable. The comprehensive ATS offers strong collaboration, communication, automation, and reporting for recruiters, hiring managers, and candidates, as well as customizability, elastic recruiting, and smart search features. Comeet is passionate about empowering organizations to secure the talent they need, right when they need it. Investors in Comeet include Flashpoint VC, Cresson, Upwest VC, and others.
About Boathouse Capital
Boathouse Capital is a Philadelphia-based private equity firm with $650 million of capital under management. Boathouse's equity strategy is focused on control investments of $25 million to $100 million, into high-growth middle-market companies including SaaS/software and technology-enabled services. Our sector-focused investment strategy is centered around partnering with management teams to create enduring value and positioning our companies for accelerated growth.
Source: Spark Hire