Global HR Survey Confirms Applicant Overload is Derailing Hiring Time and Quality
Press Release
•
Apr 10, 2023
New Report Reveals the Impacts of the Apply-Anyways Candidate Culture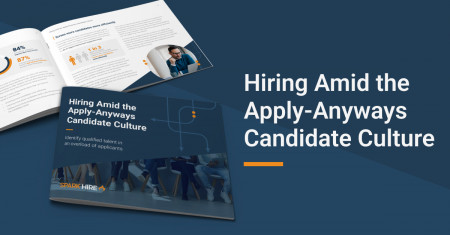 CHICAGO, April 10, 2023 (Newswire.com) - Spark Hire announces its research report Hiring Amid the Apply-Anyways Candidate Culture - Identify Qualified Talent in an Overload of Applicants. The new report reveals a rising job applicant trend that's slowing time to hire and wearing recruiters, HR, and hiring managers thin.
The 'apply-anyways' culture (candidates applying for jobs for which they are not qualified) is growing, creating a challenge for recruiters to identify and hire highly-qualified talent quickly.
"It's the classic 'chicken or the egg' situation," said Josh Tolan, CEO of Spark Hire. "High unqualified-applicant volume creates a slow and ineffective hiring process. Slow hiring encourages a high volume of hopeful or sometimes desperate applicants waiting for a response - from anyone. Hiring teams need to optimize hiring processes to break this cycle."
85% of respondents to the Spark Hire survey agreed Time to Hire is a critical KPI their team is actively working to improve. Of the total respondents, 73% who chose to fill in a written response identifying the top challenge to their speed to hire stated there are not enough "qualified" candidates - while a "high volume" of applicants is causing notable delays.
Spark Hire confirmed that too many unqualified candidates applying for jobs is leading to an increasingly slower time to hire—a major pain point for recruiters, HR professionals, and hiring managers globally.
The survey of over one thousand respondents from the BambooHR Summit Conference at the end of 2022 also revealed that complex and outdated candidate screening practices are leading to high candidate dropout rates, which can be costly and time-consuming.
"Several factors are feeding into the apply-anyways candidate culture. We don't see this trend fading anytime soon. But there are ways for recruiters and HR professionals to identify highly-qualified applicants quickly and reduce their time to hire," said Josh Tolan, CEO of Spark Hire.
"By taking proactive steps, we can break the cycle of too many unqualified applicants delaying hiring decisions while keeping the talent pool wide open to reach as many quality candidates as possible."
Spark Hire's mission is to provide recruiters, HR, and hiring teams with the tools they need to optimize their hiring processes and increase hiring velocity. This research report contributes to Spark Hire's commitment to helping companies across all industries hire the best talent faster.
Read the full report and supporting infographic: Hiring Amid the Apply-Anyways Candidate Culture Report
About Spark Hire
Spark Hire empowers more than 6,000 organizations to improve speed and quality of hire by making more informed and collaborative hiring decisions every day. Millions of candidates across 100+ countries have experienced exceptional convenience and personal connections through Spark Hire's innovative video interview software. With the easiest-to-use product, unmatched customer service, and fair & transparent pricing, Spark Hire has been the #1 rated video interview platform on the market for over a decade.
Source: Spark Hire