Spark Hire and SmartRecruiters Announce Integration to Make Hiring Easier
Press Release
•
updated: Mar 13, 2018
The integration between Spark Hire's video interviewing solution and SmartRecruiters' talent acquisition platform enables customers to enhance their hiring process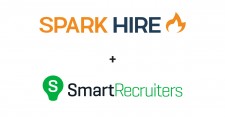 CHICAGO, March 13, 2018 (Newswire.com) - Spark Hire (https://www.sparkhire.com), the world's fastest-growing video interviewing solution, has integrated with its latest partner SmartRecruiters (https://www.smartrecruiters.com), the leading talent acquisition platform.
Spark Hire is now available through the SmartRecruiters Marketplace, which brings together an entire ecosystem of hiring tools. Spark Hire's easy-to-use video interviewing platform further enhances SmartRecruiter's goals of improving the candidate experience, recruiter productivity and engagement with hiring managers.
"We are excited to partner with SmartRecruiters," says Josh Tolan, CEO of Spark Hire. "Their approach to recruiting is something we can get behind and the integration supports both of our visions for a more efficient and effective hiring process."
Using the Spark Hire and SmartRecruiters integration, mutual customers will be able to:
Customize the end-to-end candidate experience
Send video interview invitations from the candidate profile in SmartRecruiters
Access completed videos interviews in SmartRecruiters with the ability to watch or share in one click
"As technology continues to improve and become more integrated into the recruiting process, reliable video is essential," says Rebecca Carr, VP Product at SmartRecruiters. "Spark Hire provides a seamless, high-quality integration of an interview's visual component."
SmartRecruiters and Spark Hire are both dedicated to helping organizations hire more successfully. Now, mutual customers can integrate video interviews with their end-to-end recruiting software to make better hires faster.
To learn more about the integration, contact Spark Hire for a demo.
About Spark Hire
Spark Hire is an easy-to-use video interviewing platform with 4,000-plus customers conducting video interviews in over 100 countries. Since launching in 2012, Spark Hire has become the fastest-growing video interviewing platform. Organizations of all sizes are utilizing Spark Hire to make better hires faster than ever before. Pricing for unlimited video interviews starts as low as $49 per month with no contracts and no setup fees. Learn more on sparkhire.com.
About SmartRecruiters
SmartRecruiters' Talent Acquisition Suite is used by high-performance organizations for making the best hires. It has full functionality for recruitment marketing and collaborative hiring built on a modern cloud platform with an open marketplace for third-party recruitment services. Unlike the first-generation applicant tracking systems it replaces, SmartRecruiters provides an amazing candidate experience, hiring managers actually want to use the product and recruiters love us because we make their jobs easier.
Source: Spark Hire
Related Media
Tags
Additional Links