Solatube Revolutionizes Daylighting Interior Design Choices With New Square Diffusers
Solatube has released their new square diffuser for the leading brand of daylighting systems.
Press Release
-
Jun 30, 2016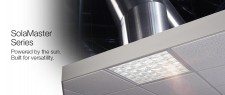 Pleasanton, California, June 30, 2016 (Newswire.com) - ​Solatube is one of the leading daylighting companies on the market today. Offering the most innovative and creative solutions in tubular skylights, Solatube provides higher lighting performance and more attractive design solutions, combining the best of both worlds. Sola-Brite​ in California now carries Solatube's latest innovation – a breakthrough in technology that converts the light source from their efficient and powerful tubular daylighting devices to stylish and modern square diffusers. The Solatube square diffusers offer a unique look and a versatile design that make them ideal for any contemporary, modern styled setting.
The revolution of Solatube's square diffusers lies in their advanced patented technology. The design allows daylight outside to flow through the round collection tube, and be projected through a square diffuser. The natural daylight is transferred through Solatube's patented Spectralight™ tubing with 99.7% reflectivity, and transported with incredible brightness and clarity to the square diffusers to provide the cleanest, purest lighting possible. Why use artificial lighting and burn through electricity to light the darkest inner rooms of your home? Solatube allows you to harness the brilliant power of the sun to effectively and beautifully illuminate any room in your home.
The OptiView® Skylight Diffuser
Solatube is offering two varieties of square shaped diffusers for its award winning tubular daylighting systems. The OptiView® Skylight Diffuser is expertly designed to offer clear natural daylight direct to any room in your home. The square OptiView® diffuser features a matrix of hundreds of individual Fresnel lenses that help to magnify and accentuate the light as it diffuses into the room. The highly engineered and unparalleled design also offers a unique and interesting view of the sky above creating the perfect atmosphere, while providing an energy saving, cost efficient daylighting solution.
The Prismatic Skylight Diffuser
Solatube also offers the Prismatic Skylight Diffuser, a high performance square diffuser designed to replicate the appearance and design of traditional troffers. This streamlined, modern and efficient design blends effortlessly into any building or room, offering a clean, green lighting solution with the look of a modern electric light. Solatube's square Prismatic Skylight diffuser provides a bright, well-dispersed diffusion of natural light, to enliven and brighten any room in your home or office.
Sola-Brite​ provides expert and professional installation of the Solatube daylighting systems according to your needs and style, anywhere in the Tri-Valley Area. The expert daylighting consultants at Sola-Brite​ are committed to developing a unique, custom-designed tubular skylight system in your home to effectively and resourcefully illuminate your home with natural light. Based in Pleasanton, Sola-Brite​ are the leading providers of Solatube technology in the North Bay, East Bay and San Francisco Area. Contact us today for more information on how the incredible Solatube square diffusers could illuminate and invigorate your home.
Source: Sola-Brite
Share:
---
Categories: Home Improvement and Renovations, Interiors and Decoration, Home Appliances, Lamps and Lighting, Roofing, Home
Tags: daylighting, light tubes, solar lighting, solar tubes, tube skylights, tubular skylights
---