Smith, Creed, Purdy Lead MDM Motorsports ARCA Teams Into Battle at Salem This Weekend
Press Release
•
updated: Apr 18, 2018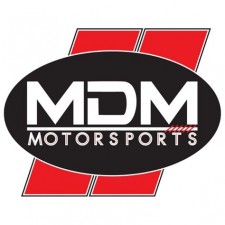 SALEM, Ind., April 18, 2018 (Newswire.com) - Last week's Music City 200 Winner Zane Smith, runner-up Sheldon Creed and seventh place finisher Chase Purdy lead the MDM Motorsports ARCA teams back into battle this weekend when the Kentuckiana Ford Dealers ARCA 200 gets underway at the high-banked Salem Speedway in Salem, Indiana.
For Smith, who scored his first ever win in the series at Nashville last week, Salem offers him a chance to make it two straight checkered flags. "I'm looking forward to getting a shot at going back-to-back," he smiled. "I feel like I'm better at Salem than Nashville, and after losing the fall race there last year I know what I need to do to get the win this weekend with our La Paz Margarita Mix, Icon Vehicle Dynamics, Ultra Wheels Motorsports Toyota."
His crew chief, Mardy Lindley, is determined to help get Zane to victory lane. "This is the fist time Zane and I have gone back to a track together. We were strong in the fall but got too free in the race. Zane knows what he has to do, and we're going to give him a better piece to do it with. I'm looking forward to this weekend."
Creed comes into this weekend's race second in the driver standings behind Michael Self, but Self is not entered for this weekend's race, meaning Creed is technically the points leader for the moment. His crew chief, Jeff Stankiewicz went to victory lane several years ago at Salem with Grant Enfinger during that team's championship run.
"We want to win races," Creed explained. "But we want the championship as well. "I feel really good about where we are in points as a team right now. We just need to keep up our consistency, stay smart and fast, and take calculated risks when they come up. I believe our United Rentals, A.M Ortega, RTL Toyota will be a threat to win this weekend."
Stankiewicz has confidence in his team's chances as well. "Salem is home for me so going back there is always pretty cool. I think we'll have a fine weekend if we just stick to what we do best, stay smart, stay consistent and build on our points lead."
Purdy will pilot the Bama Buggies, Polaris No. 8 Toyota in his return to a track he really enjoys. "I am excited to go to a track I'm familiar with," the Series rookie said. "I liked racing Salem. I had a lot of speed there last year and I feel that I will only be better this year with Cully (Barraclough – his crew chief) and our MDM guys."
Ironically, this will be Barraclough's first time at the track. "I've never been there before," he confirmed. "But Chase has, and he had a lot of success there last year in the fall. MDM has been strong there in the last two races and we have the same stuff going back this time, so I feel positive about the weekend."
Additional information about MDM Motorsports is available at www.MDMmotorsports.com, find us on Facebook and follow us on Twitter @MDMmotorsports.
Media/Sponsorship Contact:
Dylan "Mamba" Smith
(704) 928 6602
Source: MDM Motorsports
Related Media