Sixth Annual Robotics Alley Adds Policy Forum, Lifetime Achievement Award
Press Release
•
updated: Feb 10, 2017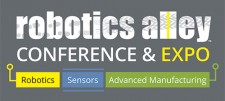 Minneapolis, MN, February 10, 2017 (Newswire.com) - ​​The sixth annual Robotics Alley Conference & Expo will once again highlight how robotics and automation are changing the way we live and work. This year, it will be held Feb. 28 – March 1 at The Depot Minneapolis. The event will feature experts on how new technologies will impact shopping, travel, health care, agriculture, manufacturing and more. Complete information is available at roboticsalley.org.
This year two new events have been added to the mix: the Virtual Policy Forum, presented by public policy firm Apparatus, and the Lifetime Achievement Award, which will honor Don Craighead, founder of Power/mation and longtime technology, automation, and STEM education advocate.
The Virtual Policy Forum combines on-site programming and interactive exhibit space with social media and live-stream video coordinated to the conference agenda. It will feature a live panel of legislators on Feb. 28 from 1 - 2:30 p.m. discussing the status of R&D investments and tax credits, workforce development, self-driving cars, privacy protections and more. The panel will be moderated by Margaret Anderson Kelliher, President and CEO of the Minnesota High Tech Association, with panelists including Rep. Tony Albright, Rep. Paul Thissen and Sen. Kari Dziedzic.
The inaugural Robotics Alley Lifetime Achievement Award Dinner will feature a gala dinner on Feb. 28 at The Depot Minneapolis with both individual tickets and corporate tables available.
This year's lineup of Robotics Alley keynote presenters includes:
Elwin Loomis, Senior Director of the Store of the Future at Target, will discuss "Creating a Community of Disruptors"
Jacob Ward, technology correspondent and former editor-in-chief of Popular Science, will cover the ethical issues raised by automation in his "Automatic Ethics" presentation
Martin Buehler, Executive R&D Imagineer at Walt Disney Imagineering, will explain "Why You Are In the 'Robot Experiences' Business"
Dr. Bin He, Director of the Institute for Engineering in Medicine at the University of Minnesota, will present "Mind-Control of a Robot: Principles and Challenges"
Chad Stiernagle, Senior Director of Automated Retail at Best Buy, will focus on "The Retail Store of the Future"
Additional breakout sessions for the 2017 event include Robotics in Healthcare; The Feasibility of Westworld: 3D Printing for the Human Body; Cyber Security for Robotics and IoT; Active Materials Technology for Wearable Systems; The Future of Additive and Digital Manufacturing; A Look at Autonomous Vehicles; and more.
Other highlights include the Robotics Alley "Invest in Innovation" competition, which was introduced last year and proved to be so popular that it has been moved to the main stage. Three companies will make their pitches to VC judges in a live public session.
Also making a return appearance is the STEM Showcase, where students get a chance to show off their own robotic creations. Following the STEM Showcase, the popular March of the Robots gathers the student teams and industry exhibitors in the Main Hall where they parade their robots in a unique spectacle that's a signature Robotics Alley event.
Finally, an expanded Drone FlyZone will give attendees an opportunity to try their hand at navigating a drone with the help of an experienced practitioner.
Automation and robotics are raising the competitive bar for businesses in all sectors. Learn how, and how your business can benefit, at the Robotics Alley Conference & Expo in Minneapolis on Feb. 28 and March 1, 2017.
About the Robotics Alley Conference & Expo
The Robotics Alley Conference & Expo is an annual gathering in Minnesota's Twin Cities that is on pace to become one of the world's leading conferences on robotics and automation. The event began in Minneapolis in 2011 as an industry-led initiative to spotlight the rapid growth of robotics and automation both globally and in the Midwest. It sought to bring together businesses, researchers, engineers, investors and others to help catalyze the fast-emerging robotics industry in Minnesota and the surrounding region. Since that time, it has grown to attract attendees from across the U.S. and the world. The event features discussion of leading-edge technological developments, world-class speakers and hands-on demos. This year's event will take place February 28-March 1 at The Depot Minneapolis.
For more information and to register, go to roboticsalley.org.
Source: Robotics Alley Conference & Expo
Related Media