Singer, Songwriter and Guitar Player Eljuri, to Release Her New Album This Friday October 14
Press Release
•
Oct 11, 2016
Is Not Known By Too Many That Eljuri Is One Of The Best Latin Female Guitar Players. This Album May Finally Change That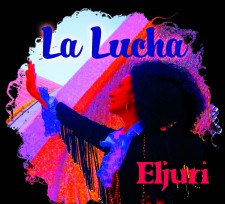 Los Angeles, CA, October 11, 2016 (Newswire.com) - Born in Ecuador and raised in New York City, composer, singer and guitar player Eljuri, will release her new album 'La Lucha' (The Fight) on Friday October 14, 2016. The compulsive genre-fuser, known as one of the best female Latin guitar players, has been described as introspective and defiant by media who have acclaimed her third solo album. In these uncertain times filled with unnecessary violence, an album like 'La Lucha' connects us with a space that champions life and hope.
Leaning on over twenty years as a musician, leader, innovator and teacher, Cecilia Villar Eljuri self-produced 'La Lucha', which represents a super-modern mash-up of her musical roots. Eljuri's intimately composed album highlights both of her elegant and empowered instruments- her guitar and her voice. Arabic notes and Latin instrumentation reverberate throughout. Eljuri's highly developed personal guitar style reflects the influence of Jimmy Page, Nancy Wilson, David Gilmour and Bonnie Raitt.
With support from Manovill Records, a dream team was formed for the recording, production, mixing, mastering and promotion of this collection of eleven songs. Playing on the strengths of each member of the Eljuri 'family', Cecilia has called once again on the complex rhythms and perfect pocket grooves of her long-time drummer and percussionist, Alex Alexander. The bass performances on the album are split between Johnny Pisano who rocks the tunes reflecting a funky edge and Tracy Wormworth whose phat bass warms and rounds out the 'Eljuri' sound. Steve Sandberg joined the recording with his memorable piano montunos.
Eljuri writes songs that break all the rules. She blends the sounds and rhythms she heard from her mother's piano, her father's vinyl records, her siblings' favorite DJs and the rhythm of the streets. With this record, Eljuri reaffirms her relevance in a constantly changing global music landscape. Her lyrics are in Spanish, English and sometimes a little of both. Eljuri explains that she, as so many other immigrants, fluidly and regularly flips between two languages and when she adds in the third language of music, she communicates a message that the whole world understands.
Eljuri will perform and present live her new album in exclusive and intimate concerts in New York City at DROM (Wednesday, October 12), the show is presented by Manovill Records and will stream live the concert from the venue on https://www.livamp.com/drom/. In Los Angeles, the record release concert will be at the Gibson Guitars Showroom (Thursday, October 20) presented by The Living Sessions and co-presented by BMI.
Source: Eljuri
Related Media