Colombian Artist Yeison Jimenez Sets Off New Single 'El Desmadre' Throughout All of America
Press Release
•
updated: Oct 17, 2019
One of the most popular music artists from Colombia sets foot internationally with his latest song and video, a mix of regional Mexican and regional Colombian music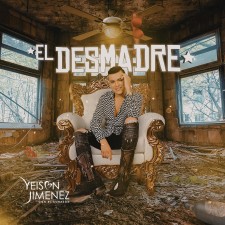 LOS ANGELES, October 17, 2019 (Newswire.com) - Yeison Jiménez, one of the main exponents of Colombian regional music, once again turns on the jukebox and nightclubs with a song that is going to take an immense leap in his career by entering the Mexican regional genre with his new single El Desmadre, a song that is destined to become the anthem of parties, gatherings and wherever else is ignited by the sound of a popular song by one of the most important artists in Colombia with international projection.
El Desmadre was created in a camp in Mexico City during a week where Jose Luis "Rio Roma", Horacio Palencia and Poncho Arocha, important composers and producers of Mexican regional music, were able to participate. The first session of this single also counted with the participation of the Mexican composer and producer multi-awarded Luciano Luna.
The co-production of the song was done by Yeison and Yhoan Usuga, the great Colombian producer of songs such as: Aventurero, Bendecida, Maldita traga, T La ultima farra, among many others.
The purpose of El Desmadre was to develop the sound recipe that identifies with Yeison without losing his essence but with a more international production: merging the Mexican regional sound with the Colombian regional sound and creating with both elements a unique and new proposal for both territories and their audiences. This work featured a tremendous instrumental production recorded both in Mexico and in Colombia.
The video clip is a venture that shows a visual and musical development where Yeison captivates an entire international market, meanwhile continuing to show his authenticity and vocal quality, that without a doubt represents good Colombian talent around the world.
El Desmadre was filmed in the small and beautiful town of Aculco which is three hours from Mexico City, under the production of La Catrina and the direction of Ivan Medina. It's a love story between Yeison and the Mexican model Mariel Andreina, in emblematic places of this town, showing how our two characters live a romance.
The Colombian artists will take El Desmadre to latitudes where techno carrilera, mariachi, corridos and a great variety of folklore are protagonists, but that welcome an artist who is going to thrive in the U.S. just as he has done throughout the rest of the continent.
Source: The Music Joint
Related Media