Singer and Author Brian Evans Will Run for U.S. Congress in 2018
Entertainer will focus on healthcare and hospital rating organizations
Press Release
-
updated: May 3, 2017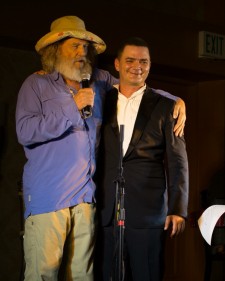 Wailea, Hawaii, May 3, 2017 (Newswire.com) - Brian Evans, known for his historically significant music videos such as "At Fenway" (which co-starred William Shatner and was produced by multiple Grammy Award winner Narada Michael Walden) and "Creature at The Bates Motel" (he remains the only singer ever to film a music video at The Bates Motel, which co-starred comedian Carrot Top), has announced that he will run for the United States Congress in 2018. "At Fenway" was added to The National Baseball Hall of Fame. He is also an investor in Point Motion, a technology that provides the hearing impaired with the ability to be provided a voice using infrared technology.
Evans, whose career has been as a headliner in Las Vegas, as well as the opening act for such stars as Joan Rivers, Jay Leno, Erasure, Lou Rawls, David Spade, Citizen Cope, and Social Distortion, to name a few, decided to run following the passing of his mother, Helen Marie Bousquet, at 62 in 2012.
"If you can't join 'em, beat 'em."
Helen Bousquet passed away following knee surgery when placed in an un-monitored recovery room in Massachusetts, despite the hospital knowing she had a condition known as Sleep Apnea. Following her passing, Evans has approached all fifty governors in the United States, seeking Sleep Apnea Proclamations (many of which mention his mother by name, despite her never visiting those states during her lifetime). Evans set up a website for his mother, helenbousquet.com, which both Academy Award winner Jeff Bridges and Tom Hanks introduce. Evans recently provided copies of the Proclamations to Dr. Oz on Maui, and hopes to appear on the show soon. The website he set up for his mother provides links about the condition known as Sleep Apnea, which an astonishing percentage don't even realize they have. Rather, sufferers appear to be merely snoring. Evans intends to write a book about what happened to his mother, and the events that took place at the hospital she was being treated in.
"You must get a sleep test if your loved one continuously snores. They could be dying," says Evans. "Don't nudge them; bring them to the doctor before it's too late."
Brian Evans, whose music is used on shows such as Netflix's "BoJack Horseman," among others, has also authored several books including "Horrorscope," and "The Funny Robbers," both of which will be major motion pictures. "The Funny Robbers" is being produced by Evans and comedian Carrot Top, and Carrot Top manager Dan O'Leary. They are also developing a TV series entitled "Creature." His latest fictional novel will be out later in the year, as well as the completion of the "Horrorscope" series.
"If I win, many people won't like me. If you can't join 'em, beat 'em," says Evans.
According to a recent article in The Washington Post, medical negligence is now the third leading cause of death in the United States, and yet has managed to not be listed as an official cause of death by the Centers For Disease Control and Prevention. Evans is also outspoken about hospital rating organizations that rate hospitals they never walk into.
"You have these companies that give hospitals these 'A ratings,' but what you don't know is, they have never even walked into the hospital that they rate. Instead, they send the hospital a questionnaire, that the hospital answers themselves, they mail it back with a check ... and there's their A rating. It gives older people the false impression that the hospital is safer than it is, and their flashy website gives it credibility they don't deserve. Ask them to post their salaries at the non-profits. These organizations are in the business of appearing to care about what happens in these hospitals. If they don't walk into them, they don't care. It's that simple," says Evans. "Do not go into any hospital because of a rating that means nothing." The judicial system also needs to be filled with qualified individuals who rule on the law, and not personal relationships."
Evans has seen policies begin to change for Sleep Apnea patients, who are now given wristbands the moment they are identified as Sleep Apnea patients.
"You can thank Helen Bousquet for that," says Evans. "The letters I've received mean the world to me, but remember, my mother did the hard part. All I've done is put stamps on envelopes. My mother gets the credit for that, and she has saved lives."
Fourteen states have yet to issue the Proclamations, and Evans says that if they don't, he and some of his celebrity friends intend on showing up on state capitol doorsteps, and he has a few of them. Big ones.
Evans will continue to write books, and is partnering with his entertainment friends on a soon-to-be-announced vineyard in France.
"I had a terrible few years. I was unrecognizable to myself, but I have my wits back, and it's time for me to do what my mother would want me to do, and that's to keep on going and making sure that what happened to her, doesn't happen to you. I am slowly finding joy again, and my job will be to make sure I deliver that to others. The best way to do that is to make sure that people who have this condition stay alive. We all need to begin holding these nameless, faceless people accountable for the destruction they perpetrate while getting paid a hefty salary to do it under the guise of being a 501(c)," says Evans. "Some are honorable, but many are not."
"Lifestyles of The Rich & Famous" star Robin Leach first broke the story of Evans' intention to run. Brian will release a new album this year as well.
"There is nothing that says you can't do it all, and when I do it all, I intend to use the attention to make sure that what happened to my mother doesn't happen to yours," he says. "We live in a world where corporations own both hospitals and gun manufacturing companies. They make the guns and treat the wounds. It's absurd and we allow it."
His autobiography will be released in 2018, with a foreword by one of his friends.
"When you see who it is, it's a book you'll pick up," says Evans.
Evans will run as a Republican.
"The Republicans need people like me more than the people they already have. I think that's pretty obvious," he concludes.
Evans will perform several concerts this year as well. Over 30 million people have viewed his music videos on YouTube. His latest video, "Here You Come Again," features Dog The Bounty Hunter, Beth Chapman, Leland Chapman, William Shatner, and comedian Paul Rodriguez.
"I'm getting better," says Evans. "I'm ready now."
MEDIA CONTACT:
Cameron Walker
​Cameron@brianevans.com
(808) 276-1734
Source: Brian Evans for US Congress
Share:
---
Categories: A&E News, Books, Healthcare, Politics, Television Programs, Casinos
Tags: brian evans, congress, las vegas, politician, politics, republicans, white house
---