Simplesa® Announces the Launch of LunaCell™ - Most Advanced Form of Lunasin™
LunaCell™ is the next generation and most bioactive form of Lunasin available
Press Release
-
updated: Jul 13, 2017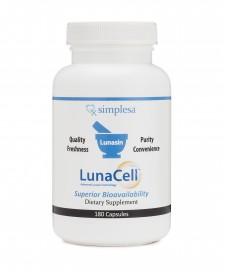 Coral Springs, FL , July 13, 2017 (Newswire.com) - Simplesa® is launching LunaCell™, the next generation of Lunasin developed to have superior bioavailability.  LunaCellTM is the culmination of years of research, studies, patents, and technology that has been invested into making Lunasin more absorbable by the body.  Developed by the original Lunasin Research & Development Team, and now working with Simplesa®, LunaCellTM is produced using the most advanced extraction, processing, and standardizing techniques.  This makes LunaCell™ the most concentrated and efficient form of
 Lunasin ever produced. LunaCell delivers more bioavailable Lunasin than any other Lunasin supplement on the market today, all in a smaller and easier to swallow capsule.  
Lunasin was originally developed as the first dietary compound with an identified epigenetic mechanism of action.  This mechanism (histone acetylation) was identified in 1996 and patented in 1999.  While many other dietary compounds are known to affect gene expression, their exact mechanisms of action (how they work) remain unknown.  The  ground-breaking work identifying Lunasin's epigenetic mechanism of action has been published in Nature Biotechnology and Cancer Research.  Epigenetics affect how genes are interpreted by our cells and subsequently react or reproduce new cells.[1] Multiple studies have shown that Lunasin helps reduce oxidation of linoleic acid that produces oxygen radicals and acts as an oxygen radical scavenger (traditional antioxidant mechanism). It also reduces oxygen radicals produced by macrophages.
Free radicals are atoms or molecules that are highly reactive with other cellular structures because they contain unpaired electrons. As free radicals react with cellular structures, they lead to cellular injury and eventually cell death[2]. Free radicals may also trigger activation of various proteins that in turn activate an inflammatory response. Abnormally activated macrophages are highly specialized cells in our bodies that remove dying or dead cells and cellular debris, causing elevated levels of free radicals. LunaCell™ helps prevent and counteract cell damage and encourages healthy expression of cell growth and activity.
LunaCellTM is the effective and potent combination of Lunasin and protease inhibitors, which together deliver bioavailable Lunasin to the body.  In LunaCell, the Lunasin molecule is encased by protease inhibitors to form a protective shell which serves to prevent premature Lunasin destruction during digestion. As the molecule passes through the small intestine, the protease inhibitors break down to release bioavailable Lunasin for optimal absorption by the body. This is an important and distinctive factor of LunaCell™, as, without this protective coating, the Lunasin will break down too early during digestion, resulting in a loss of potency and maximum intake by the body.  It is the combination of Lunasin and the protease inhibitors in LunaCellTM that makes it the best choice for superior absorption by the body.
Simplesa® vice president Steve Margolis noted that "LunaCellTM is the most advanced Lunasin supplement available on the market today.  We saw LunaCell as an amazing and groundbreaking opportunity. We are always eager to advocate solutions that help people keep their supplemental and nutritional regimes simple."
Beyond the improved bioavailability and absorption, the practical aspect of LunaCellTM is very important.  It offers more convenience and cost savings compared to other brands of Lunasin on the market. Since LunaCell has twice the potency of the Lunasin as other products, someone only needs to take half the number of capsules.  Moreover, the capsules are now smaller and therefore easier to swallow. LunaCell™ is practical, cost effective, and has easier dosing.
For more product information about LunaCell™ please visit: Simplesa.com/LunaCell
About Simplesa®
Simplesa® was founded in 2013 because it saw a need and had a solution. ALS patients were having success following the Deanna Protocol, but it was too complex and expensive the way it was distributed. Simplesa® formulated products specifically for these ALS patients to simplify their regimen and lower the cost of the products they take. The brand is continuously on the lookout for other similar situations to help patients keep their supplemental and nutritional regimes simple.
Corporate Contact
Steve Margolis
Steve@simplesanutrition.com
[1] http://lunasin.com/lunasin-and-epigenetics
[2] http://web.stanford.edu/group/hopes/cgi-bin/hopes_test/?s=inflammation#free-radicals
Source: Simplesa®
Share:
---
Categories: Alternative Medicine, Healthcare and Medical News, Medical
Tags: Bioavailable, cancer, epigenetics, inflammation, LunaCell, Lunasin, Nutrition, Simplesa, Supplements, Vitamins
---