Shirlene Reeves, CEO of Maximize Your Wealth Now Announces the Launch of "WMAX.TV" May 25 at 9 AM
Shirlene Reeves, CEO of Maximize Your Wealth Now, announces this week's show [Maximize Your Wealth now TV (WMAX.TV] on the Voice America network's Empowerment Business Channel. The show airs on Wednesday, May 25th, 2016 at 9 AM.
Press Release
-
May 23, 2016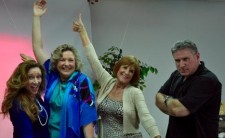 San Diego, California, May 23, 2016 (Newswire.com) - ​Shirlene Reeves, CEO of Maximize Your Wealth Now is one of only 253 Certified Financial Educators in the nation.  She's the executive producer and co-host on Maximize Your Wealth Now TV, sponsored by WMAX.TV.  Her co-host Barbara Wainwright is CEO of Wainwright Global and has trained over 6,000 life coaches worldwide. Together they bring a relaxed, fun environment, much like the view on network programming, by bringing guest experts with important messages in business, finance, family and lifestyle that you wouldn't learn in school or in other programming.
On Wednesday, May 25th the show features Linda Lenore, a Feng Shui Master with 30 years of experience as a green home and office building professional.  She is known for creating home and corporate environments that stimulate success and soothe the soul.  Some of her clients are; Adobe Systems, Apple, Bank of the West, First Republic Bank and the Ritz-Carlton along with international media celebrities.  Linda blends ancient intuitive wisdom to interior and landscape design and has been recognized as an American Society of Interior Designers Distinguished Speaker.
Also featured is Steve Farber, best-selling author known for his book The Radical Leap: A Personal Lesson in Extreme Leadership.  Recently his book received the Readers' Choice Award and is considered to be one of the 100 Best Business Books of all time. Steve is the founder of The Extreme Leadership Institute.  His organizations are devoted to the cultivation and development of Extreme Leaders in the business community, non profits and educational organizations. 
If you like the show, let them know.  Be sure to leave a comment, give the show a 5 Star rating and collect your free gift from featured guests.
Opt in to receive the show weekly show http://maximizeyourwealthnow.com/tv/
To watch the WMAX.TV full season bit.ly/22iwDYt
About Shirlene Reeves, Publisher, Wealthy Woman Magazine
Shirlene Reeves is a Transformational Educator blending business, finance, and media with universal principles.  She expands one's knowledge and develops one's business mindset to prepare entrepreneurs and their companies for massive visibility.  She believes that if you're serious about cultivating your business you need massive visibility for massive income.
Shirlene is one of only 253 Certified Financial Educators in the nation with more than 25 years of financial experience.  She is the founder of the Celebrity Guest Expert TV Training Classes, the publisher of Wealthy Woman Magazine, CEO of Maximize Your Wealth Now and Executive producer and co-host on WMAX.TV.
For 17 years, Shirlene was the CEO of her own company, which she bootstrapped from zero to millions, with 23,000 independent contractors working under her nationwide.
Shirlene has a Master's Degree in Metaphysical Science and trained on Maui under the late Wayne Dyer and Ram Dass.
VoiceAmerica™ Network offers the latest conversations in a talk radio format, providing education, interaction, and advice on key issues live, on demand as well as through podcast download. 
Contact Executive Producer: Robert Ciolino at (480)553-5770 or at robert.ciolino@voiceamerica.com for advertising / sponsorship or other show details.
Listeners can download the current versions of the VoiceAmerica Talk Radio App at: ​Google Play: https://play.google.com/store/apps/details?id=com.airkast.VA_MASTER&hl=en 
About VoiceAmerica/World Talk Radio LLC 
World Talk Radio, LLC is the world leader in online media broadcasting and the largest producer and distributor of live internet based talk radio and TV, delivering over 1,000 hours of programming weekly on its VoiceAmerica™ Network as well as live and on-demand video content on VoiceAmerica.TV. Featuring more than 200 hosts broadcasting to seven niche community based channels: its flagship VoiceAmerica™ Variety Channel, VoiceAmerica™, Empowerment, VoiceAmerica™ Health & Wellness Channel, VoiceAmerica™ Business Channel, VoiceAmerica Sports, 7th Wave Channel, and VoiceAmerica™ Kids Channel. VoiceAmerica™ TV offers targeted and exclusive video programming channels. VoiceAmerica™ /World Talk Radio, LLC is one of the pioneers in internet broadcasting, producing and syndicating online audio and video, offering an innovative, effective and comprehensive digital broadcast platform. Digital Publishing through its 14 years of broadcast and media experience along with our seasoned staff of Executive Producers, Production and Host Services Group, VoiceAmerica™ /World Talk Radio, LLC provides an internet radio and video platform for new, emerging and veteran media personalities to expand and monetize their business and brand in an online digital medium.
Source: Maximize Your Wealth Now
Share:
---
Categories: Lifestyles, Television Programs, Business
Tags: Barbara Wainwright, business, entrepreneurs, Feng Shui, finance, Linda Lenore, Maximize Your Wealth Now, Shirlene Reeves, Steve Farber, VoiceAmerica, wealth, Women
---