Sheldon Creed, MDM Motorsports Finish Up 2018 ARCA Season With Championship and Kansas Win
Press Release
•
updated: Oct 23, 2018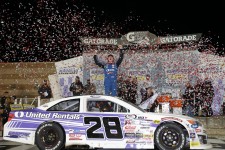 KANSAS CITY, Kan., October 23, 2018 (Newswire.com) - MDM Motorsports ARCA Series driver Sheldon Creed won his fourth series race of the year at Kansas Speedway on Friday and wrapped up the overall series championship as well.
Teammate Harrison Burton finished second to Creed in the race, Chase Purdy earned a fifth, Anthony Alfredo 15th and Zane Smith 17th in the Kansas ARCA 150.
Creed scored four victories this season, along with 16 top five finishes and 18 top ten finishes in his 20 starts. The former X-Games Gold Medalist had already won the ARCA Superspeedway Championship, Sioux Chief Short Track Challenge, and the General Tire Pole Award Winner, these are separate ARCA series points titles solely based upon performance on specific types of tracks or qualifying results.
He started second in the #28 Cancer Awareness, United Rentals, A.M Ortega, Toyota led by crew chief Jeff Stankiewicz. He fell back a bit early in the event but charged his way to second by lap 21. After the first round of pit stops, he led until lap 44, when contact with a lapped car forced him to pit road. He regained the lead with 15 laps to go and never looked back as he won for the fourth time this year.
"I have no idea how we were able to come back and win this thing," he grinned in victory lane. "I thought for sure after all the damage (from the contact) we were done. These guys never quit on fixing it and got it close enough to where I could drive it again. What a season! Thanks to everyone who helped make this championship possible!"
Burton, who won the 2017 NASCAR K&N Pro Series East championship for MDM Motorsports, was making his 1.5-mile superspeedway debut at Kansas after turning 18 years of age shortly before race day. He was making his ninth start of the ARCA season behind the wheel of the #12 Dex Imaging, Safelite, Mobil 1 Toyota.
He qualified an impressive third, moved to second on lap one and raced inside the top five until the 30th lap when he began experiencing a problem with a sticking throttle. The team fixed the issue and just 15 laps later, the talented second-generation driver was back up to third. He fought hard over the final 20 circuits to finish second, one spot behind his champion teammate Creed at the stripe.
Burton finished the year with one win, five top fives and eight top ten finishes in his nine starts in the series. "It's great to have speed and to be able to bounce back from that issue with the throttle sticking," Burton said after the race. "I thought we were in good position to win the race but we just couldn't quite get there. Congratulations to Sheldon and his team on winning the championship. They've had a super season and I am thankful to MDM for another successful year together as well."
Purdy started tenth in his Bama Buggies, Polaris Toyota No. 8 at Kansas. He worked his way to a high point of sixth place before falling back a bit on a restart. He overcame a pit stop (under yellow) to fix some damage to the front grill and charged his way back to finish fifth.
The series rookie had ten top five and 14 top ten finishes this year and finished fourth in the championship standings. "This is just kind of how it has been for us all year," Purdy reflected. "We've had cars good enough to be up front running for wins but the results don't really show that just do to bad luck and circumstances. I'm proud of this team and the fight we showed all year. We didn't get the win we wanted but we showed we were good enough to win all season. I cannot thank all of my guys and MDM Motorsports enough for their hard work and all they've taught me this year."
Alfredo drove #40 Ceco Building Systems, Oxford Energy, JDRF MDM Motorsports Toyota for his second start in the ARCA Series and his first on a 1.5-mile superspeedway. He qualified 11th and began moving toward the front of the field at the drop of the green flag. He was in eighth after eight laps were completed, restarted seventh after the first round of stops, and was all the way to fourth at the halfway point.
Unfortunately, his night ended five laps short of the finish as the axle broke on his machine and he wound up 15th.
"It's so disappointing not having the finish we deserved after running that well," Alfredo remarked. "But, on the flip side, we have a lot to be proud of and excited for going into next season. We applied everything we gained all year today and showed that we could run with the best. The support we've had all year from Ceco Building Systems, Oxford Energy, JDRF, MDM Motorsports and all of our family, friends, and fans has been humbling and I cannot thank them all enough for helping me to make my dream happen."
Smith may have lost the battle, but he could make a strong case that he won the war as he finished the season with second in points with four victories, 12 top five finishes, and 13 top ten finishes in 20 races this season. He also won the CGS Imaging 4 Crown Championship, comprised of best finishes in ARCA series races at Talladega, Madison, Pocono and DuQuoin during the season, and sits second in the championship standings.
He started Friday's race ninth in the #41 Beverly Hills Rejuvenation Center, Concrete Motorsports, La Paz Margarita Mix Toyota, led by crew chief Mardy Lindley. He winged his way to sixth place in the first seven laps despite a car that was not handling as he needed it to. He got to fifth at one point and found the top groove more to his liking in the final forty laps as he began to get faster.
However, with 24 laps left in the race, he was involved in a crash on the back straightaway that put him out of the event and left him with a 17th place finish.
"Man, that sucks," Smith said, shaking his head. "I thought we were really making gains there around the top and we just got caught up in someone else's crash. We obviously would have liked a better finish to end the season, but it's really been a great year for us. We were only supposed to have 12 races and we made it all year. We won four times and won the 4 Crown championship so that's awesome. Thank you to everyone at MDM Motorsports and my sponsors for making those accomplishments possible."
Additional information about MDM Motorsports is available at www.MDMmotorsports.com, find us on Facebook and follow us on Twitter @MDMmotorsports.
Media Contact:
Dylan "Mamba" Smith
(704) 928 6602
Source: MDM Motorsports
Related Media