MDM Motorsports Sweeps Top Four Positions in Pocono ARCA Mod Space 150
Press Release
•
updated: Aug 1, 2018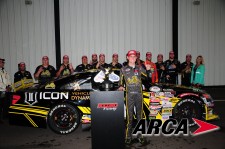 Long Pond, PA, August 1, 2018 (Newswire.com) - ​For the first time in the organization's history, MDM Motorsports drivers swept the top four positions in an ARCA Racing Series event, doing so in the rain-shortened Mod Space 150 at Pocono Raceway last weekend.
Zane Smith scored his fourth victory of the season, followed across the line by teammates Sheldon Creed, Chase Purdy, and Harrison Burton.
Smith came into the event with three wins on the season with his La Paz Margarita Mix, Icon Vehicle Dynamics, Speed Vegas Motorsports Toyota No. 41 team led by crew chief Mardy Lindley. He leads the short-track challenge for the series but had also won at Talladega Superspeedway, proving the team's capability on the largest tracks as well as the smallest ones.
He qualified third and moved past his teammate Creed for second in the event's opening laps. He inherited the lead when Todd Gilliland pitted and never looked back despite a strong challenge from Creed just before the rain started to fall. Contact between the two teammates could have gotten dicey had they not been good friends.
"I totally drove him down the track," Smith said. "I knew we were racing to lap 31 and I had just slipped up out of the groove around a lapped car and given up a huge lead. I didn't want him to get by at all because that would have been the race right there."
Creed has had three wins so far this season and several others that could have been, as his United Rentals, A.M Ortega, RTL Toyota No. 28 led by crew chief Jeff Stankiewicz has been the most consistent results-wise all season. Add Pocono to the list of those top fives that could have been wins. His lead in the championship standings is still a healthy 160 points over Smith.
He started sixth but charged to second in the first turn on lap one. He was in contention all day, fighting for the top spot with Smith in a torrid battle before slipping up and finishing second.
"I hope they have a good shot of that save," the former X-Games Gold Medalist said with a smile. "I absolutely pounded the wall. I thought we were both going to be taken out. If they were right up on us, there's no way we would have finished 1-2. This is a great team day for MDM. Pretty cool!"
Purdy started ninth in his Bama Buggies, Polaris Toyota No.8, but he didn't stay there long. By lap 8 he was up to fourth. He ran a strong race and found some speed in the latter stages but just ran out of time before the rains came and forced the early checkered flag.
"It was a really good day for us considering how it started," Purdy stated. "We didn't roll off the truck as strong as we would have liked, but Mark made the right calls all day and we kept getting better. We finished third and helped MDM sweep the top four. That's a really cool deal!"
Burton began the race from the fourth spot with the Dex, Safelite, Mobile 1 Toyota No. 12, but lost a bit of ground in the early stages. He rebounded to run as high as third but eventually settled for a fourth-place finish right on Purdy's bumper to complete the MDM team sweep of the first four spots in the finishing order.
"We wanted to come back and win," commented Burton, who won the June event in his first Superspeedway start. "We don't run a full season so every time we come we're here to win. It is awesome to come out and take the top four spots. That's a great day for MDM as a team. I obviously want to win but to be a part of a team day like today is something special, and that makes finishing fourth OK."
The series now takes a much-needed break until Sunday, August 19th, when the teams gather around the one-mile clay oval at the Illinois State Fairgrounds for the Allen Crowe 100. The race will be televised live on MAVtv.
Additional information about MDM Motorsports is available at www.MDMmotorsports.com, find us on Facebook and follow us on Twitter @MDMmotorsports.
Media Contact:
Dylan "Mamba" Smith
(704) 928 6602
Source: MDM Motorsports
Related Media