Shannon Hodge's New Book 'Finding Faith in a Closet' is a Thought-Provoking Account That Shares a Life of Struggles and Finding God Amid Such Trials
Recent release "Finding Faith in a Closet" from Covenant Books author Shannon Hodge is an evoking narrative that contains a journey through conflict and how faith is restored and how resolve is rediscovered.
Press Release
-
updated: Apr 9, 2019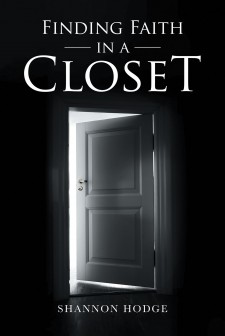 TAYLORSVILLE, N.C., April 9, 2019 (Newswire.com) - Shannon Hodge, the owner-operator of onelifestore.net, has completed his new book, "Finding Faith in a Closet," an impassioned book that shares candid circumstances that reveal God's goodness for the hurting and sorrowful.
Hodge writes, "The Lord tells us in Jeremiah 29:13–14a, 'And you will seek Me and find Me, when you search for Me with all your heart, I will be found by you says the Lord.' He also tells us in Matthew 6:6 (KJV), 'But thou, when thou prayest, enter into thy closet, and when thou hast shut the door, pray to thy Father which is in secret; and thy Father which seeth in secret will reward thee openly.' Finding Faith in a Closet is one man's story of taking these verses to heart during the darkest valley of his life. When his wife is diagnosed with stage 4 pancreatic cancer, his faith is yet again put to the test. It is an honest open account of the fears, the questions and the anger, but also of the peace, the hope and the joy of knowing we have victory in Jesus Christ. 1 Corinthians 15:55–57 says, 'O Death, where is your sting? O Hades, where is your victory? The sting of death is the law. But thanks be to God, who gives us the victory through our Lord Jesus Christ.' It's in the darkness when the light of God's love shines the brightest!"
Published by Covenant Books of Murrells Inlet, South Carolina, Shannon Hodge's new book conveys impactful perspectives that hope to inspire readers with a renewed strength and faith in life.
This book is an exemplary testament of God's love and mercy that truly transforms lives toward blessedness and enlightenment.
Readers can purchase "Finding Faith in a Closet" at bookstores everywhere or online on the Apple iTunes store, Amazon or Barnes and Noble.
Covenant Books is an international, Christian owned and operated publishing house based in Murrells Inlet, South Carolina. Covenant Books specializes in all genres of work that appeal to the Christian market. For additional information or media inquiries, contact Covenant Books at 843-507-8373.
Source: Covenant Books
---
Categories: Books
Tags: Covenant Books, Finding Faith in a Closet, Shannon Hodge
---