Separating the Signal From the Noise in Financial Services Technology
Financial Services Futurist Jack Uldrich will be speaking on the future of credit unions in Minneapolis today
Press Release
-
updated: Feb 19, 2018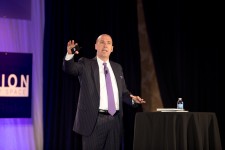 MINNEAPOLIS, February 19, 2018 (Newswire.com) - Jack Uldrich will be speaking to leaders at Wings Financial here in Minneapolis, Minnesota, today. He will be sharing his research on the emerging trends and technologies that are transforming the future of credit unions and the entire finance industry. Uldrich views part of his role as a futurist to be to help financial services professionals and organizations spot new opportunities created by emerging technology, and learn how to ignore the "noise," or, the many digital distractions that will not serve to improve their businesses or services. 
In his presentations, Uldrich addresses the changes and challenges of the digital world in the next 10 years. He says that blockchain technology, cryptocurrencies, artificial intelligence, gaming dynamics, nanotechnology, data analytics, chatbots, and peer-to-peer lending will continue to drive seismic change and transform nearly every facet of society, including financial services.
Credit unions have long benefited from interpersonal connections to sustain the trust necessary to create lasting relationships. Meetings over lunch, a hand-signed letter, or lengthy phone calls are being replaced by emails and online transactions. As a futurist, Uldrich will not only address cutting-edge technologies that credit unions need to start leveraging, he will also discuss the importance of those personal connections, and why they are still necessary in today's technology-focused business environment.
Regarding his role as a futurist, he said: "The work I do is all about helping organizations prepare for the coming technological changes so that they can effectively navigate and determine the course of their future."
Uldrich is a prolific speaker on the future of financial services. He speaks at dozens of industry events each year throughout the United States and internationally. His clients in various finance-related industries include Banamex, Global Atlantic, Invesco, Wells Fargo, University of Wisconsin Graduate School of Banking, Thrivent, Signal Hills, Stockbridge and Questar Capital.
Uldrich is the author of 11 books, including Foresight 20/20: A Futurist Explores the Trends Transforming Tomorrow. His other written works have appeared in The Wall Street Journal, BusinessWeek, The Futurist, Future Quarterly Research, The Wall Street Reporter, Leader to Leader, Management Quarterly, and hundreds of other newspapers and publications around the country. He is also a frequent guest of media worldwide, having appeared on CNN, MSNBC, and National Public Radio on numerous occasions. 
For more information on Jack Uldrich's speaking, writing, and workshops, please visit his website.
Source: Jack Uldrich & The School of Unlearning
Share:
---
Categories: Credit Unions, Banking, Finance, Insurance, Business Finance
Tags: Credit Union, Financial Services, Futurist, Jack Uldrich, Keynote, Trends, Unlearning
---