Self-Service Association ADA Initiative
Press Release
•
updated: Oct 11, 2017
The self-service and kiosk industry association forms ADA committee and working group and meets with governmental standards departments.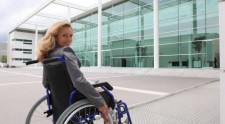 Eastlake, CO, October 11, 2017 (Newswire.com) - The Kiosk Industry Group Association has formed an ADA committee and an ADA working group. And in November travel to Washington, DC to meet with the U.S. Access Board, the group responsible for writing ADA regulations. The idea is to work with the Access Board on an ongoing basis to help them better define regulations. We are also working with the ATMIA (www.atmia.com) as well and the ETA (www.electran.org) in this regard. Participation in the working group is open to all interested parties.
The ADA committee currently consists of Olea Kiosks, Kiosk Information Systems, Frank Mayer and Associates, KioWare, Turnkey Kiosks and iPadKIosks.
At the same time this month the featured in-depth article is on ADA , the Final Rule, current government actions and relevant liability actions.
Excerpt:
Some of the biggest challenges self-service transaction machine deployers face is the degree of interpretation that must be applied to some of the regulations. How many accessible units and what level of accessibility constitutes acceptable access? Another is new regulations and retrofitting existing units, said Craig Keefner, manager for Olea Kiosks.
"Complicating retrofits can be the issue of recertifying for UL," Keefner said. "One change to the overall machine can require the new configuration to be re-certified. If someone like Walmart has to change all of its self-checkouts, that's a big change."
In other news this month (https://kioskindustry.org/news):
Telemedicine partnership Olea and AMD announced
Turnkey Kiosks Make Big Updates
Improved Android management software by KioWare released
Nanonation promotions
New kiosk printer section w/ Microcom, BOCA & new member KFI.
Elo announces new Wallaby line of kiosks
New Members
About the Kiosk Industry Group
The Kiosk Industry Group is a news and marketing association for self-service and kiosk manufacturers. It is for the benefit of kiosk manufacturers, developers, resources and client companies who are involved in self-service transaction machines (SSTM). News about the industry and by the industry is published on our website when it is relevant to companies that deploy or may deploy self-service, or to companies that support those deployers with hardware, software or applications. The Kiosk Industry Group has been active since 1995. Our audience this year on the website is 50,000 (human). Visit https://kioskindustry.org for more information.
Media Contact:
Craig Keefner
303-261-8836
craig@catareno.com
Source: Kiosk Industry Group Association
Related Media
Tags