Sefati & Co Launches Free SEO and Digital Marketing Resources Hub
Sefati & Co, a premium digital marketing firm, has unveiled a new online resource center, providing a wealth of actionable tips regarding SEO and digital marketing.
Press Release
-
updated: Mar 4, 2019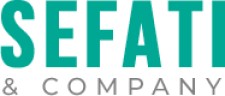 IRVINE, Calif., March 4, 2019 (Newswire.com) - For years, Sefati & Co has provided best-in-class digital marketing expertise to enterprise clients across California. Now, that same depth of knowledge is available to everyone. Sefati & Co has launched a new digital marketing resource hub, providing access to a treasure trove of actionable tips regarding SEO and digital marketing.
"Our aim is to help small and mid-sized companies take SEO into their own hands, and to lay the foundation for some effective digital outreach," comments Al Sefati, the company's founder. "We hope these resources will be valuable and easy to implement."
Currently, the page has an SEO checklist and a Google Analytics checklist—both available for free. And that's just the beginning: Sefati has grand plans to add to the page on a regular basis, turning it into a truly comprehensive information center for all things digital marketing related.
"The information and resources provided are all based on our own understanding of digital marketing best practices," Sefati says. "With this content, we want to do our part to keep the SEO industry's standards high."
The information at this new Sefati & Co resource hub is available with no obligation; users are not even asked to provide any personal information to collect these valuable aids.
"We encourage any business owner or marketing professional to consult these digital marketing resources at their next opportunity," Sefati concludes.
Sefati & Co is based in Orange County, California, and serves clients throughout the country. More information about the firm can be found online at Sefati.net.
ABOUT:
A data-driven search marketing firm in Orange County, California, Sefati & Co boasts years of experience, a high degree of technical expertise, robust content creation capabilities, and certification in several leading enterprise SEO tools. Based in Orange County, the company provides its clients with diverse services in website development, lead generation, social media marketing, paid search marketing, enterprise SEO, media outreach, influencer marketing, and beyond. Sefati & Co is known for its personal approach, tailored to meet the needs, goals, and budgets of each client. More information is available at www.sefati.net.
Sefati & Company - Enterprise SEO & Digital Marketing Agency
200 Spectrum Center Drive, Suite 300-LC,
Irvine, CA 92618
Source: Sefati & Company
Share:
---
Categories: Advertising
Tags: Analytics, Digital Marketing, Search Marketing, SEM, SEO
---