Seawater Desalination Systems Market Trend Report Recognizes AMPAC USA Among Top Seawater Desalination Systems Manufacturers
AMPAC USA, a leading manufacturer of the household, commercial and industrial reverse osmosis and seawater desalination systems has gained many accolades over the years. These accolades not only boost customers' faith in the brand but also boosts the overall reputation of the company.
Press Release
-
updated: Feb 11, 2018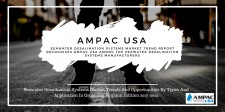 California, February 11, 2018 (Newswire.com) - The organization was recently honored when it found recognition in the Seawater Desalination Systems Market Trend Report. The CEO of the company expressed immense delight on this valuable and highly worthy inclusion.
When told about this valuable recognition, the CEO of AMPAC USA seemed delightful and said "After years of serving US citizens, industries, corporations and military personnel of the USA and other prominent nations, we have finally gained recognition as a provider of quality seawater desalination systems. It feels like a small victory. My team and I are very thankful for this honor and feel motivated due to it."
Shedding some light on the types of seawater desalination systems required by military applications which is the pride and joy of AMPAC USA, the CEO said "Most military, and navy units seek seawater desalination system on the basis of the task they have been assigned. For instance, if a unit is asked to patrol the sea borders, it would need a small seawater desalination system that can fit in tight spaces. In contrast, if the operation is in a remote location where there is no reliability or guarantee of water, a larger unit is needed. So, the size depends on the operation and day to day tasks of the military and naval unit."
Underlining the key features demanded by military, navy and other industries who have a base at a remote location, the CEO of AMPAC USA said "Most of such clients seek a system that can be powered by solar energy so that they don't depend on the power supply of the vicinity to get pure water. Similarly, they also seek products that are mobile and can be hauled from one place to another quite easily. This sort of demand is the reason why most of our seawater desalination systems are either mobile or solar powered."
AMPAC USA was mentioned in the report entitled "Seawater Desalination Systems Market Trends and Opportunities by Types and Application in Grooming Regions; Edition 2017-2022". This report has intensive analysis, complete coverage and actionable market insights to spot opportunities available in potential as well as existing markets. It also highlights the top dynamics of the current industry. Key challenges were also highlighted in this valuable report.
Talking about innovation in the seawater desalination sector, the CEO of AMAPC USA shared the company's unique innovation, creating Mobile Seawater Desalination Plant - SW100K-LX-C. This unit has the capacity of producing 100,000 gallons of contamination-free water daily. He said "When we were asked by a client to create a system with a capacity that has never been created before, we took on the challenge and worked diligently on the design. Though it took us many weeks to create it, the results have been very satisfactory. We also feel proud of this innovation because it gives us a competitive edge as no other manufacturer has a system with this much capacity yet."
Explaining the vital features of SW100K-LX-C, the CEO of AMPAC USA elaborated "This system makes use of reverse osmosis and seawater desalination technologies to convert any natural water source to pure and drinkable water. It has essential pre-and post-treatment modules which ensure that there is no contamination but a mineral-rich output."
Apart from AMPAC USA, the other Seawater Desalination Systems manufacturers listed in this report are GE, Toray, Alpha Water Systems Inc., Wellthy Corporation, Xylem, Shuangliang Eco-Energy Systems Company Limited, Applied Membranes, and ProMinent.
Sharing details on the fact that quality is paramount for AMPAC USA, the CEO of AMPAC USA said "Quality is the first preference when it comes to creating any product for our customers, be it a small reverse osmosis system for start-ups or a giant desalination plant needed by huge industries. We ensure that each system passes numerous demanding quality checks. We also make sure that each product is QA certified by the company. As all our products are considered safe for use in remote locations and tough weather conditions, we also ensure that all products also pass those particular tests."
Many people complain that they can't perform maintenance activities on a seawater desalination system and hate spending money on calling in the experts. To resolve this problem, AMPAC USA has taken some proactive steps. Elaborating these, The CEO of AMPAC USA, Sammy Farag said "All the products we ship come with an instruction manual. It allows users to learn about the system from inside out and do the maintenance on their own. If they get stuck somewhere, our team would be there to guide them. We also provide free installation and product training to each of our clients."
Thanking the customers for their love and support, the CEO of AMPAC USA said "It is our customers who have helped gain recognition and earn a good reputation. We are forever thankful to them for choosing us, and we aim to do everything in our power to keep them satisfied."
Expounding on the plans of the company, the CEO of AMPAC USA said "The experts at our company think that seawater desalination technology still has a lot of scope for innovation and this is the reason we launch a new product after every couple of months. We will continue to map the Seawater Desalination needs of people and Industries across the world in the future too with an aim to ensure that we keep ahead of the competition and help our clients get access to the top of the line technology every time they place their trust in any product by AMPAC USA.  Nothing but the latest technological innovations, highly functional designs, ease of using and long-lasting products satisfy our customers and meet the high expectations they have set for the brand, AMPAC USA. So, we will focus on that in the years to come."
Source: Ampac USA
Share:
---
Categories: e-Commerce, Emerging Businesses, Military and Defense
Tags: 1 lac Gallon per Day Capacity RO, Ampac USA, Commercial reverse Osmosis, Industrial reverse Osmosis, Mobile Seawater Desalination Plant
---