Savannah/Hilton Head International Airport Introduces WHILL Power Chair Service to Provide Enhanced Mobility for Passengers
Press Release
•
May 31, 2023
The new service gives passengers the freedom to explore the airport on their own terms before heading to their gate.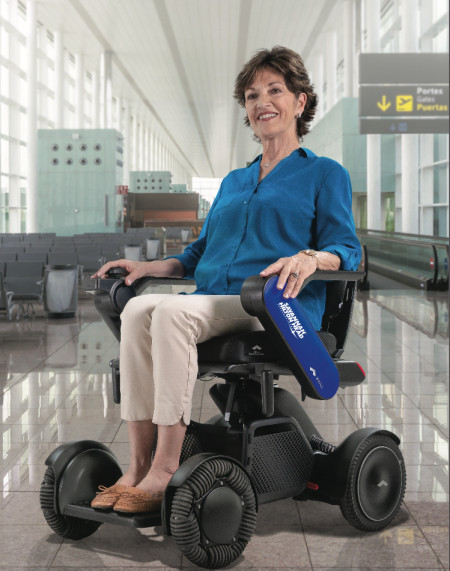 SAVANNAH, Ga., May 31, 2023 (Newswire.com) - Savannah/Hilton Head International Airport has teamed up with WHILL, an innovative personal transportation solutions company, to provide improved mobility for passengers at the airport. The new service allows passengers to use a WHILL Model C2 power chair to navigate the terminal themselves, including visiting restaurants, shops, and restrooms before heading to their gate. Traditionally, passengers with mobility limitations would be pushed in a wheelchair by airport staff, which does not provide the same level of independence.
The power chairs at Savannah/Hilton Head International Airport are free to use and are provided at the Mobility Services counter on the Departure Level. To reserve a chair, advise the airline of the need for wheelchair assistance when booking flights or go directly to the airline's check-in counter on the day of departure. Passengers can then explore the airport with freedom and confidence using the WHILL Model C2's easy-to-use controls. The service launched in early May and utilizes four power chairs to transport passengers.
"We firmly believe services like this represent the future of personal transportation within airports," said Justin Gagnon, VP of Sales for WHILL North America. "Not only do the power chairs save time and energy for the airlines - which is great - but they also make life easier for passengers with reduced mobility by allowing them to navigate the airport independently. It's a win-win."
Customer feedback during previous trials has been overwhelmingly positive, with passengers remarking that they loved having the independence to explore the airport and head to the gate on their own.
The service is now available and ready for the busy summer peak travel season.
Savannah/Hilton Head International Airport (SAV) provides leisure and business travelers with access to two of the country's top destinations. SAV has consistently been named one of the top airports in the U.S. by leading travel publications Condé Nast Traveler and Travel + Leisure. Savannah/Hilton Head International currently offers 32 destinations with over 60 daily nonstop departures and several additional weekly nonstop flights and destinations offered seasonally. Whether you fly commercial or private, Savannah/Hilton Head International is your connection to the captivating coastal regions of both Georgia and South Carolina. For more information, visit flySAV.com.
WHILL Inc. connects the world with personal transportation solutions. In addition to designing and selling mobility vehicles, WHILL provides Mobility-as-a-Service, offering autonomous and manual transportation services that make public spaces such as airports, hospitals, and vacation destinations more accessible. WHILL provides products and services in more than 20 countries and regions worldwide. Learn more at https://whill.inc. For business inquiries, please contact us at mobilityservices@whill.inc.
Source: WHILL Inc.