SAP PRESS Publishes Introductory Guide to SAP BW/4HANA Solution
Press Release
•
updated: Jun 28, 2017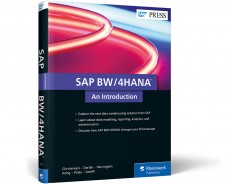 Quincy, MA, June 28, 2017 (Newswire.com) - SAP PRESS today published its introductory guide to SAP's BW/4HANA data warehousing solution. SAP BW/4HANA: An Introduction is the first English resource on a solution that SAP rolled out in August 2016 and calls its "next-generation data warehouse."
Written by a team of six authors from COMERIT, Inc., the book provides readers an overview of the solution, giving them a look at data models, SAP BW/4HANA Analytics, automated data lifecycle management, and more. Readers will learn just what SAP BW/4HANA is, what it does and how it does it, and how to actually get the solution themselves.
The book also covers:
SAP HANA
Installation and deployment
Reporting and analytics
Administration
Security
Data warehousing solution
Author Jesper Christensen said the book is "a great introduction to SAP BW/4HANA, including the new capabilities and simplifications provided in BW/4HANA and some detailed step-by-step instructions on using BW/4HANA."
When asked why he joined on as author, he said, "SAP BW/4HANA is rapidly becoming a very mature application and more companies are looking to the innovations offered in BW/4HANA to support current and future enterprise data warehouse needs — but there are still a lot of questions about BW/4HANA and its use cases."
The book is available in print, electronic, and bundled editions and can be purchased via the SAP PRESS website and Amazon.com.
About SAP PRESS
SAP PRESS was founded in Bonn, Germany in 1999 as part of a joint venture between Rheinwerk Publishing and SAP. Today, it is the world's leading publisher on SAP topics, providing comprehensive book and e-book products on SAP topics for beginners and experts; SAP users and consultants; developers, administrators, and IT managers. For more information, please visit http://www.sap-press.com.
Contact
To learn more about SAP BW/4HANA: An Introduction, please contact:​
​Aja Walkes, Marketing Manager
2 Heritage Dr. Suite 305​
​Quincy, MA 02171​
​Office: (781) 228-5070 Ext. 210​
​ajaw@rheinwerk-publishing.com
Source: SAP PRESS