SAP PRESS Launches New Mobile Subscription App for Offline Reading
Press Release
•
updated: Jul 31, 2018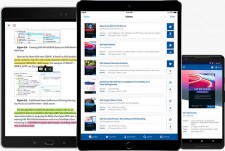 QUINCY, Mass., July 31, 2018 (Newswire.com) - SAP PRESS, the world's leading publisher on SAP topics, launched its first mobile application today, permitting readers to access its books on mobile devices. The app provides quick and easy access to all SAP PRESS e-books as part of its subscription program.
The SAP PRESS App allows those with an SAP PRESS Full or Topic Subscription to download materials and read offline, giving readers more flexibility to learn as they continue to work towards their professional goals. Users will also be able to browse through and search across all available titles, add books to a favorites list, and manage their library from their device.
"Our subscription customers are mobile workers: consultants and SAP experts in international organizations," Florian Zimniak, managing director for Rheinwerk Publishing, said. "Being able to access our subscription on mobile devices is key for these customers' success. The app will allow our customers to download the books for offline reading. Plus, we're finally offering our subscription in a mobile-native format for better reading experience: EPUB."
The app is free and is available for iOS and Android devices. Future app releases will provide users with the ability to activate subscriptions from within the app, navigate their library by topic, search across the full text of books, bookmark and highlight favorite passages, and more.
More information about the app can be found on the SAP PRESS website at: www.sap-press.com/subscriptions.
###
About SAP PRESS
SAP PRESS was founded in Bonn, Germany in 1999 as part of a joint venture between Rheinwerk Publishing and SAP. Today, it is the world's leading publisher on SAP topics, providing comprehensive book and e-book products on SAP topics for beginners and experts; SAP users and consultants; developers, administrators, and IT managers. For more information, please visit http://www.sap-press.com.
About SAP PRESS Subscriptions
SAP PRESS offers two types of subscriptions: Full and Topic. Full Subscriptions give readers access to the entire SAP PRESS catalog, while Topic Subscriptions are specific to a single topic, including Logistics, Finance, Programming, Administration, HR, HANA, and Business Intelligence. Both subscription types are updated with relevant new titles.
Contact
​
To learn more about our app and subscription program, please contact:
Aja Walkes, Director of Marketing
2 Heritage Dr., Suite 305
Quincy, MA 02171
Office: (781) 228-5070 Ext. 210
ajaw@rheinwerk-publishing.com
Source: SAP PRESS