Santa Barbara Chocolate Provides Delectable Organic Dark Chocolate for Eating, Candy Making and Baking
Santa Barbara Chocolate's organic dark chocolate is USDA certified, ethical trade, and Kosher Pareve.
Press Release
-
updated: Dec 19, 2016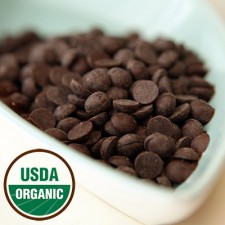 Santa Barbara, CA, December 19, 2016 (Newswire.com) - Customers all across the United States, as well as internationally, enjoy Santa Barbara Chocolate's organic chocolate that can be eaten right from the package or is perfect for candy making and baking. The company was founded in 1992, and has been a trusted source for the chocolate lover, chef, and baker since that time.
Santa Barbara Chocolate's bulk organic dark chocolate is 70 percent cacao without soy lecithin. It is a real taste of South American cacao and offers the subtle floral nuances of raw cacao grown in the Amazon's headlands. Santa Barbara's organic dark chocolate is gluten and GMO free, ethical trade cacao, and Kosher Pareve chocolate.
The key to the company's high-quality organic chocolate is how the cacao is sourced. Santa Barbara Chocolate gives their certified organic Theobroma trees 32 square feet of space each, so the tropical rainforest winds can blow around all four sides of the tree and penetrate the branches. This ensures the organic cacao fruit develops and ripens properly and with full flavor. The company relies on dedicated cocoa farmers to check the trees daily to see how the cocoa pods are ripening. They tend to each with care knowing what each tree needs to grow healthy fruit. It is from the healthy organic cacao fruit that Santa Barbara Chocolate brings to market their organic chocolate.
"Santa Barbara Chocolate's success comes from our commitment to quality and the value we provide, offering flavorful and memorable chocolate for our customers," says Jason, CEO of Santa Barbara Chocolate Company. "Chocolate lovers across the globe enjoy our one-stop shop for the freshest and highest-quality chocolate available on the market today."
Santa Barbara's Chocolate's product are made from a true chocolatier's perspective of what makes high quality, safe and feel good chocolate. It is soy free and many customers who are gluten intolerant buy the company's chocolates. The company also offers recipes on their website that highlight year-round chocolate treats. From a chocolate energy drink and cake truffles to their holiday lavender chocolate ganache recipe, there's something for everyone. 
Santa Barbara Chocolate also offers flat rate shipping and free shipping on orders more than $50. For more information, visit SantaBarbaraChocolate.com. 
About Santa Barbara Chocolate Company
Santa Barbara Chocolate Company is a California chocolate factory that supplies bulk wholesale chocolate chips, makes organic chocolate couverture and imports Belgian baking chocolate. For more information, visit SantaBarbaraChocolate.com.  
Source: Santa Barbara Chocolate
---
Categories: Food and Beverage Manufacturing, Cooking and Entertaining
Tags: bulk chocolate, chocolate couverture, chocolate supply, dark chocolate, Kosher chocolate, melting chocolate, Pareve chocolate, wholesale chocolate
---