Santa Barbara Chocolate - The Home of Premium Professional Chocolate - Introduces Bulk Organic Dark Chocolate … This is as Pure as Dark Chocolate Gets
California chocolate factory now offering organic rainforest dark couverture chocolate with 72% cocoa and no soy lecithin
Press Release
-
updated: Nov 13, 2017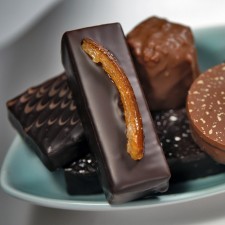 SANTA BARBARA, Calif., November 13, 2017 (Newswire.com) - Santa Barbara Chocolate, the home of premium professional chocolate and trusted source for quality bulk chocolates for chocolate lovers and makers, chefs and bakers worldwide, introduces bulk organic rainforest dark couverture chocolate with 72% cocoa solids and no soy lecithin.
"Sustainable cacao farming is environmentally better and shade-grown rainforest cacao is the secret to our best-selling organic dark chocolate," said Jason Vishnefske, master chocolatier and co-founder of Santa Barbara Chocolate. "Our new organic rainforest dark couverture chocolate with 72% cocoa solids and no soy lecithin or vanilla is as pure as dark chocolate gets. No soy and no vanilla make it uniquely pure. It's gluten- and GMO-free, too. Just three wholesome ingredients: organic cocoa beans, organic sugar and organic cocoa butter. It's smooth and earthy, with slight fruity flavors, and is the highest-quality organic chocolate certified Kosher and Fair Trade."
Unlike regular chocolate, couverture chocolate contains a higher percentage of cocoa butter (relative to other ingredients), resulting in superior flavor and texture, making it the preferred chocolate for bakers and chefs worldwide. After cocoa butter is extracted from cacao beans, the result is the cocoa solids percentage, a number that determines how much of the chocolate by weight comes from the bean. The higher the cocoa solids number, the higher the quality and the health benefits. Research from the Journal of the American Medical Association has shown that even one ounce of dark chocolate high in cocoa solids daily has beneficial vitamins and nutrients, including magnesium, which is essential in lowering blood pressure. Studies have shown dark chocolate, which is rich in flavonoids (naturally occurring nutrients found in plants that provide a boost in antioxidants), is now among the list of superfoods and can boost brain power and may contribute to better cholesterol and glucose levels.
"By the bag or by the case, Santa Barbara Chocolate's high-quality organic dark chocolate can be eaten from the package and is perfect for baking or candy making. Vegans will love it. People with soy lecithin and dairy allergies will love it. Everyone will love it." 
Santa Barbara Chocolate's organic dark chocolate is USDA-certified, gluten- and GMO-free, Ethical Trade cacao and Kosher Pareve chocolate.
How Do We Do It?
Sourcing shade-grown rainforest chocolate, in harmony with nature – the truly organic way, makes all the difference when it comes to creating premium-quality organic chocolate. The world's rainforests, with their high humidity, rainfall and protective green canopies providing shade for the evergreen cacao (in Latin, Theobroma – "food of the gods") trees, provide the perfect environment for creating the world's best chocolate.   
"Santa Barbara Chocolate works in harmony with nature so that every tree, every leaf and every ray of sunlight contributes towards the authentic taste of our pure, unadulterated chocolate," Vishnefske said. "There is a huge difference when it comes to the taste of shade-grown chocolate vs. sun-drenched chocolate. In the shade, the cacao plant works in perfect precision with the climate, the environment and the sunlight – the way nature intended. On a cacao farm, the plants sit in direct sunlight on clear-cut land being scorched by the sun."
Vishnefske says this perfect infiltration of the rainforest leaves working in harmony with the sun and the plants provides the darkest, sweetest soil bursting with earthy nutrients, allowing the plant to thrive without contamination or chemical manipulation. Santa Barbara Chocolate also gives their certified-organic Theobroma trees 32 square feet of space each, so the tropical rainforest winds can blow around all four sides of the tree, penetrating the branches and ensuring the cacao fruit develops and ripens properly and with full flavor. Because demand for chocolate is so high worldwide, cacao trees must be grown and harvested sustainably, which is why Santa Barbara Chocolate works with local farmers who check the trees daily and care about the chocolate, the sustainability of their communities and protecting the land around them.
"Every morsel of pure chocolate from Santa Barbara has traveled a long way – from the tiny cacao shoots that burst through the sun-glazed forest floor to the farmer's hands that picked the bean – and is chocolate with a conscience. This is shade-grown chocolate."
About Santa Barbara Chocolate
Santa Barbara Chocolate, the home of premium professional chocolate and wholesale source for quality bulk chocolates for chocolate lovers and makers, chefs and bakers worldwide, is a California-based chocolate factory that makes high-quality organic chocolate couverture, 100 percent pure cacao, cocoa powder, chocolate chips and gourmet drinking chocolate. Co-founded in 1992 by master chocolatier Jason Vishnefske, Santa Barbara Chocolate has been the trusted source for high-end chocolate at affordable prices for 25 years. By merging the high standards of European chocolate craftsmanship with a fresh and vibrant California-lifestyle approach, Vishnefske has helped elevate chocolate from "junk food" to a healthy delicacy. Our suppliers around the world are fully accredited with one or more of these systems, programs or organizations: HACCP, UTZ Cocoa, USDA Organic, NOP Organic, Fair Trade and Rainforest Alliance. Call us at 805.477.7682 or visit us online at SantaBarbaraChocolate.com. Follow us on Facebook, Twitter, Pinterest, Instagram, YouTube and Google+.  
CONTACT:
Jason Vishnefske
805.477.7682
info@SantaBarbaraChocolate.com
Source: Santa Barbara Chocolate
Share:
---
Categories: Food and Beverage Manufacturing
Tags: chocolate, cocoa, dark chocolate, fair trade, gmo, vegan
---