Safety Measures Heightened at Thailand's Largest Temple According to Freedom Watch International
Press Release
-
Jun 7, 2016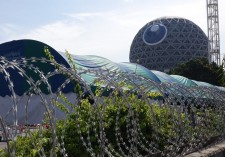 FORT LAUDERDALE, FL, June 7, 2016 (Newswire.com) - ​The World Theravada Buddhist Sangha Council (WTBSC) has called on Thailand's prime minister, Mr. Prayuth Chan-O-Cha, to find a peaceful way to resolve the ongoing case against Venerable Dhammajayo and to bring attention to the Thai Department of Special Investigation's (DSI) unethical methods in the pursuit of Venerable Dhammajayo.
DSI currently has an arrest warrant for Venerable Dhammajayo for missing a summons. The abbot had previously sent representatives to request that the location of the meeting be moved to the temple's medical ward due to complications from his medical conditions. His ailing health was confirmed by a panel of doctors and a medical certificate. DSI had launched an investigation into the validity of the medical certificate earlier.
WTBSC also states that since the case lacks solid evidence, they fear the abbot is being unjustly maligned and defamed in the case. WTBSC has also urged the Prime Minister to look into DSI's actions in seeking an arrest warrant, since the abbot had medical reasons for asking for the location to be changed. It is suspect that they didn't allow the request.
Read the full letter here.
Supporters have stated that other organizations based in Korea and Japan have sent in similar letters to Mr. Prayuth Chan-O-Cha, pleading for his help in ensuring that the case proceeds justly. These organizations include Theravada Sangha Senate of Korea; We Love Peace Association of Saitama, Japan; and the Thai-Japanese Relations Association of Tokyo, Japan, amongst others.
Amid allegations, temple representatives also announced at the same press conference that Venerable Dhammajayo is a recipient of the 2016 Symbol Peace Award from the International Buddha Education Institute and YSSSRF.
DSI has stated it has planned to mobilize 2,200 troops to arrest the ailing abbot at Wat Phra Dhammakaya. The standoff threatens to put many people's lives at risk and cause possible damage to temple property. The temple has increased security measures but has stated it is to prevent disturbances from a third party who may want to vandalize the temple. The temple's security measures include keeping only the most important entrances open. There was barbed wire found near temple walls, which officials state were installed by supporters for temple safety. Heavy equipment vehicles were removed as the situation has calmed down; however, the equipment does not belong to the temple but was put there and owned by concerned locals.
###
Source: Freedom Watch International
Share:
---
Categories: Non Profit, Religion, Charitable Contributions
Tags: Awareness, Buddhism, Buddhism Awareness, Buddhism Religion, Buddhist Monk, Charity, Freedom Watch, Freedom Watch International, Non-Profit, Religion, Wat Phra Dhammakaya
---