Rosanne Swift's New Book "Curly Cauliflower" is a Beautiful Children's Story About a White Rose Who is Bullied for Looking Different From the Other Roses in Her Garden.
"Curly Cauliflower" from author Rosanne Swift is a heartwarming story about Beatrice, a young white rose who lives in Miss Goodweather's garden nicknamed "Curly Cauliflower" because her petals are curlier than usual, making her look like the vegetable. Miss Goodweather goes to the hospital for a while, and a dandelion blows into the unkept and overgrown garden, bullying Curly about her looks.
Press Release
-
updated: Sep 12, 2018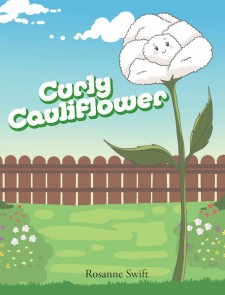 Fernandina Beach, FL, September 12, 2018 (Newswire.com) - Rosanne Swift, a native of Central New York who has worked with children of all ages in her career and now lives in Northeast Florida, has completed her new book, "Curly Cauliflower":  an encouraging children's story about accepting one's differences.
Rosanne shares, "Curly's family could be found in the rose section of the garden, specifically the damask rose section, with her parents and her two sisters. Mother and Father Damask loved their daughters very much, and Miss Goodweather made sure that their small section in her flower garden had everything the girls needed to grow up strong, healthy and beautiful – lots of sunshine, some shade, plenty of rain, and rich soil. Curly and her sisters woke up each day, opening up their buds to the glorious sunshine, drinking up the fresh morning dew. Curly's older sister, Bianca, and her younger sister, Blanche, were beautiful roses, having the smooth, frilly white petals that are particular to the Damask family. Curly, whose real name was Beatrice, also had the white petals. But they were not so smooth and not so frilly. Her petals were curled up into little bunches. She looked more like a cauliflower than a rose. It was Miss Goodweather that gave her the nickname of Curly Cauliflower. Mother and Father Damask were not happy with this nickname and insisted that in the Damask house she would always be called Beatrice."
Published by Covenant Books of Murrells Inlet, South Carolina, Rosanne Swift's new book is an imaginative story that offers respite to children struggling to accept the features that make them unique.
As Beatrice's family and friends wisely deal with Danny the Dandelion's hurtful behavior, parents and children will be encouraged after reading the story to talk about the right way to deal with bullies.
Readers can purchase "Curly Cauliflower" at bookstores everywhere, or online at the Apple iTunes store, Amazon, or Barnes and Noble.
Covenant books is an international Christian owned and operated publishing house based in Murrells Inlet, South Carolina. Covenant Books specializes in all genres of work which appeal to the Christian market. For additional information or media inquiries, contact Covenant Books at 843-507-8373.
Source: Covenant Books
---
Categories: Books
Tags: "Curly Cauliflower", Covenant Books, Rosanne Swift
---