Robotics Alley to Feature Virtual Policy Forum Presented by Apparatus
Press Release
•
updated: Feb 17, 2017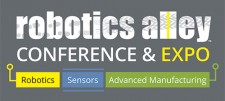 Minneapolis, MN, February 17, 2017 (Newswire.com) - ​​​​​​​​​​Robotics and automation are changing the way we live and work, how we monitor and care for for our health, how we drive, how we grow our food, how we shop, and, of course, how we play. But how do we ensure that those changes are for better? That robotics and automation create more job opportunities than they displace? That our workforce is prepared for those jobs? That the technology improves the safety, reliability, and accessibility of health care, transportation, and food? That our liability and insurance systems are prepared for new challenges? That our privacy and security are protected?
​
Apparatus, a Minnesota-based public policy and affairs practice, is proud to present the first-ever Virtual Policy Forum at the Robotics Alley Conference & Expo, Feb. 28-March 1 at The Depot Minneapolis. The Forum provides an integrated platform for both Robotics Alley attendees and the public at large to learn and engage about the social, ethical, legal, and policy dimensions of robotics and automation.
​
The Forum combines on-site programming and interactive exhibit space with social media and live-stream video coordinated to the Conference agenda. The three primary components of the Forum are:
Legislator Panel
Register to join us live or tune in via our free live-stream for an in-depth discussion panel with key members of the Minnesota Senate and House of Representatives. The panel will be moderated by Margaret Anderson Kelliher, president and CEO of the Minnesota High Tech Association (MHTA). Confirmed panelists include Rep. Tony Albright, Rep. Paul Thissen, and Sen. Kari Dziedzic.
They'll be discussing the status of legislation that impacts robotics and related sectors, including R&D investments and tax credits, workforce development, self-driving cars, privacy protections, and others.
The Panel will be on Day 1 of the conference, Feb. 28 from 1-2:30 p.m.
Registering to attend the Legislator Panel live will also give you access to the Conference for the remainder of the day, including admittance to the general sessions, expo hall, and networking reception.​
​
Virtual Forum
Using the hashtag #RoboticsAlleyVPF on Twitter and Facebook, conference attendees and members of the public are invited to participate in the Virtual Policy Forum. Follow along as we tweet in live-time about policy-related issues raise during keynote and breakout presentations and share your comments and questions - we'll even ask some of them during Q&A.
​
Expo Stage Interviews
​Join us live at the conference Expo Stage or via free live-stream to hear one-on-one interviews with conference speakers and panelists about social, ethical, legal, and policy issues.
About the Robotics Alley Conference & Expo
The Robotics Alley Conference & Expo is an annual gathering in Minnesota's Twin Cities that is on pace to become one of the world's leading conferences on robotics and automation. The event began in Minneapolis in 2011 as an industry-led initiative to spotlight the rapid growth of robotics and automation both globally and in the Midwest. It sought to bring together businesses, researchers, engineers, investors and others to help catalyze the fast-emerging robotics industry in Minnesota and the surrounding region. Since that time, it has grown to attract attendees from across the U.S. and the world. The event features discussion of leading-edge technological developments, world-class speakers and hands-on demos. This year's event will take place February 28-March 1 at The Depot Minneapolis.
About Apparatus
Apparatus is a full-service public policy and affairs practice focusing on complex issues at the nexus of social, natural, and built systems. We provide both client-oriented consulting services and engage in independent and sponsored research and advocacy. Our practice is rooted in deep substantive understanding of the legal, ethical, social, and political dimensions of science, technology, health, and the environment. We are practitioners and theorists - we bridge the gap between rigorous expert investigation of problems and practical, action-oriented solutions.
For more information and to register, go to roboticsalley.org.
Source: Robotics Alley Conference & Expo
Related Media
Additional Links