Road Warrior Tires Announces Production of Skid Steer Tires for Bobcat With Deep Tread Patterns
Press Release
-
updated: Oct 15, 2017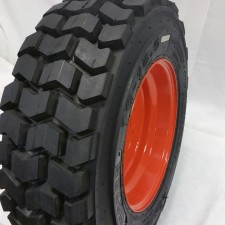 WATERTOWN, Mass., October 15, 2017 (Newswire.com) - 12-16.5 Skid Steer Bobcat tires are engineered specifically to provide reliable traction on heavy equipment jobs. These tires perform with heavy loads on all kinds of work sites; construction, mining, landscaping, and/or excavation sites, to name a few. For maximum efficiency, purchase the right skid steer tire for your terrain.
Pattern #1: Turf tire
For various landscaping jobs, a turf tire offers a non-directional, tight tread. They provide a good amount of surface contact and less turning damage. With rounded edges and shallow voids between treads, these tires are the ideal choice for landscaping work and well-suited for all-purpose use.
Pattern #2: R4 tire
This kind of tread pattern comes with deeper, directional grooves, and is usually pre-installed by the manufacturer. The patterns allow good dirt grip making the tires suitable for pushing or finish work. Not suitable for continuous hard surface work. 
Pattern #3: Lugs
There are usually three kinds of lug patterns available in skid steer tires:
Diamond lug – This tread pattern is defined by deep grooves and diamond-shaped tread. This pattern is suitable for use over asphalt, bricks, sand, stone, rock, shale, quarries and rocky soil.
Swept lug – These tires are known for their superior traction properties. This tread pattern provides better ride quality. The treads alternate between
deep and spaced grooves. Some specialized swept patterns may even be self-cleaning. This pattern is best for dry soil and snow.
Button lug – This pattern has closely spaced treads with over three rows of island treads on the tire surface, sized comparatively smaller than diamond-lugs.
The above descriptions should help you choose the tread that best suits your equipment and job sites. 
Get results in improved performance and maximum
efficiency.
● Standard Sidewall with Rim Guard provides good side impact resistance
● Aggressive tread provides good off-road traction
● Rubber Compound provides resistance to cutting and gouging
● All Natural Rubber Compounds
Skid Steer tires Size available by Road Warrior Tires:
10-16.5 14 Ply
12-16.5 14 Ply
14-17.5 16 Ply
Road Warrior is an American Brand and manufactured at one of the best tire factories in China combining the use of advanced equipment and technology from Germany with the use of first-class raw materials from Malaysia and backed by a strict quality control and production management system.
http://www.roadwarriortires.com/skid-steer.html
Source: ROAD WARRIOR TIRES
Share:
---
Categories: Construction, Transportation, Travel, Transportation, and Hospitality News
Tags: 10-16.5, 12-16.5, 14-17.5
---