Road Warrior Tires Announces Distribution of Its New and Improved Truck Traction Tire, Offering More Efficient Mud Evacuation With an Improved Directional Tread Design.
Press Release
-
updated: Oct 6, 2017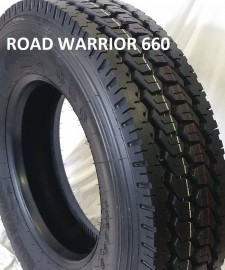 WATERTOWN, Mass., October 6, 2017 (Newswire.com) - ​Road Warrior Tires Announces distribution of its new and improved truck traction tire offering more efficient mud evacuation with an improved directional tread design.
Top Quality Commercial 11R22.5 and 11R24.5 Heavy Truck Tires for Sale
Time for routine maintenance?
When it's time to replace your tires, look for heavy duty truck tires at a good price. The best choices would be a retail store offering a sales promotion or an online store. You get unbeatable prices and great products to match. The following is what you need to know about heavy truck tires before you make your purchase.
Fact #1: The benefit of position
Heavy trucks usually run on more than four tires, six to eighteen being typical. The positions of these tires are predetermined, as each receives different kinds of stress depending on the load. Both the front and back of heavy truck tires are designed for different purposes. The benefit here is that each tire is designed to function optimally in its proper position. 
Fact #2: Smart design
Whenever heavy trucks have two tires at the same position, there is more sidewall exposure per position and more tread in contact with the ground. To eliminate this, Super Single tires for heavy trucks have been developed. These tires are twice as wide and much lighter than two tires. This allows fuel savings because of less weight and gives the truck more mobility. 
Heavy truck tires are designed to work in all conditions, bearing heavy loads and withstanding stress and heat on the highways. Outfit your vehicles properly and take advantage of this new generation of heavy truck tires.
11R22.5 and 11R24.5 Truck Tires
These tires offer improved traction with more efficient mud evacuation. Next generation on/off road drive tire optimized for exceptional traction and wear in mixed and severe service for on/off road applications.
Road Warrior Truck Tires 
215/75R17.5 235/75R17.5 225/70R19.5 245/70R19.5 265/70R19.5 285/70R19.5 10.00R20 11.00R20 1200R20 11R22.5 11R24.5 295/75R22.5 295/80R22.5 315/80R22.5 385/65R22.5 425/65R22.5 445/65R22.5 285/75R24.5 1200R24
Road Warrior Tires, founded in 1998, Specializes in developing and manufacturing Tires for Trucks and Excavation Equipment. We have advanced tire production, development, and testing as well as professional engineers and management teams. We have a competitive warranty system and production of all steel radial TBR tires of 8 Million pcs/year. Our Road Warrior brand tires have been distributed in over 20 countries. Now we are working to expand our product into more markets. Please contact us to learn how you can join our distribution channel in your state, region or country.
TRU Development Inc.
10 Bridge Street
Watertown, MA 02472
Office: 617-926-0524
Source: TRU Development Inc.
Share:
---
Categories: Town and City Government, Construction, Transportation
Tags: 11R24.5 315/80R22.5, 295/80R22.5, LT285/70R17
---