Rise in UK Employee Tribunal Claims Prompts Avensure to Rethink Business Protection Masterclass Seminars
Press Release
-
updated: Apr 17, 2019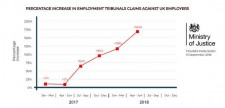 MANCHESTER, England, April 17, 2019 (Newswire.com) - The dramatic rise in UK employee tribunal claims prompts national HR and health and safety outsourced market leader Avensure to rethink business protection masterclass seminars.
Claimant tribunal fees were introduced in July 2013 by the Employment Tribunals and the Employment Appeal Tribunal Fees Order 2013 (SI 2013/1893). Prior to this, and since the creation of the tribunal system, claimants were not required to pay fees to bring their claims forward.
On July 26, 2017, the Supreme Court declared the Fees Order to be unlawful and scrapped it!
As the graph above shows, since around that time, there has been a sharp and dramatic increase in the number of employment tribunal claims brought forward by UK employees. The impact that this has had on small businesses and their owners is considerable.
Avensure is the UK market leader provider of professional HR and health and safety consultancy services to business organizations of all shapes and sizes. Based in the heart of Manchester City Centre, Avensure is well known and respected for its national program of seminar events and business owner training masterclasses.
Craig Oates, Head of National Events at Avensure, said, "Anyone who has ever been to one of our business owner training events will know first-hand just how much effort we put into covering the issues that matter the most on the day. The recent removal of the claimant tribunal fee has understandably sent a shockwave through the business community, which is why we have now introduced a segment which deals specifically with how to protect yourself against the worst outcome. Fortunately for our clients, they are all covered by our standard tribunal indemnity insurance, which means that as long as they follow our advice, then we will pick up the cost of a negative tribunal outcome."
Source: Avensure Ltd
Share:
---
Categories: Human Resources
Tags: Employment Law, Health and Safety, HR, HR Consultants
---