Renew Bariatrics Welcomes Bariatric Surgeon Dr. Luis Cervantes
Press Release
•
updated: Sep 22, 2017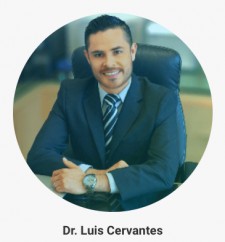 LAGUNA BEACH, Calif., September 22, 2017 (Newswire.com) - Renew Bariatrics, a premier provider of weight-loss surgery packages, adds Dr. Luis Cervantes to its bariatric surgical staff. Renew Bariatrics is a leader in offering bariatric surgery in Mexico, with numerous locations, surgical teams, and hospital facilities.
More than six years of laparoscopic-bariatric surgical experience comes with Dr. Luis Cervantes. Dr. Cervantes has also been trained by several leading figures in Mexico bariatric surgery. The addition will allow patients to choose from several different weight-loss surgery options, enabling them to pick the ideal medicine package that best fits their needs.
More than six years of laparoscopic-bariatric surgical experience comes with Dr. Luis Cervantes.

Kevin McFarland, Head of Media
Dr. Luis Cervantes operates out of Hospital Guadalajara, leading weight-loss surgery facilities in the city of Tijuana, Mexico. Dr. Luis Cervantes is a talented, obesity and laparoscopic surgeon who has performed more than 1,000 bariatric surgeries to date.
Hospital Guadalajara is General Health Council or Consejo de Salubridad General (CSG) Accredited which means that the hospital is up to international standards similar to the Joint Commission International (JCI) standards, the highest hospital accreditation. In addition to its accreditation, Obesity Guadalajara is a full-service hospital with its third floor dedicated primarily to bariatric surgery.
With the addition of Dr. Luis Cervantes, Renew Bariatrics now offers more complete, affordable Mexico gastric sleeve packages and joins leading bariatric surgeons: Dr. Hector Perez and Dr. Luis Montano.
About Us
Renew Bariatrics (https://renewbariatrics.com) is a provider of bariatric (weight-loss) surgery packages in Tijuana and Cancun, Mexico. By providing affordable weight loss surgery, individuals suffering from obesity and who lack health insurance can now find accessible health care to treat obesity medically. Renew Bariatrics offers several bariatric procedures including vertical sleeve gastrectomy (VSG) in Tijuana, gastric bypass surgery in Tijuana, and revisional bariatric surgery.
Source: Renew Bariatrics, Inc.
Related Media
Additional Links