Regional Reporter Initiative Informs Turkey Sent More Syrian Mercenaries to Azerbaijan
Press Release
•
updated: Oct 20, 2020
What's happening on the frontlines of Nagorno-Karabakh/Artsakh war?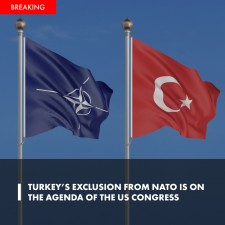 YEREVAN, Armenia, October 20, 2020 (Newswire.com) -
According to Regional Reporter, as the conflict in Artsakh continues to escalate, Azerbaijan continues to violate human rights by actively bombing areas outside the conflict zone, brutally executing prisoners of war and refusing to exchange captives and withdraw wounded soldiers from the battlefield.
On Oct. 16, members of Azerbaijan's Armed Forces called the brother of an Armenian soldier and told him they beheaded his brother and were going to post his photo on social media. Several hours later, the brother found that photo on his killed brother's social media page.
The Greek diplomats in Baku feel threatened as specific incidents against the embassy members are undertaken, posing a threat to their security. The situation around the Greek Embassy in Azerbaijan escalated quickly after the urgent visit of Greek Foreign Minister Nikos Dendias to Armenia on Thursday and their open diplomatic support for Armenia.
Armenia's Ministry of Defense reports that due to Azerbaijan's aggression many civilian settlements were damaged in the territory of Armenia proper. Schools in the Armenian villages of Sotk and Kut were damaged by adversary drones that caused shattered windows and cracked walls. Fortunately, no casualties were reported.
Armenia's Foreign Ministry reports, "After the Republic of Armenia and the Republic of Azerbaijan reached an agreement on the establishment of humanitarian truce on Oct. 18, 2020, an attempt was made to reach an agreement to withdraw the wounded soldiers from the battlefield, through the mediation of the International Committee of the Red Cross. However, this step was categorically rejected by Baku."
"If the only solution to the current conflict is the recognition of Nagorno-Karabakh, there is no need to hesitate. As an individual, I am in favor of self-determination,"​ the Mayor of Paris Anne Hidalgo told Nouvelles d'Armenie. "Baku is clearly the aggressor in this conflict, supported by Turkey."
Syrian Observatory activists have confirmed that the Turkish government has transported a new batch of mercenaries from Syria to Azerbaijan, comprising over 400 fighters of "Sultan Murad," "Al-Hamza Division," and other factions. According to them, the total number of Syrian fighters sent to Azerbaijan has risen to at least 2,050.
See the complete press release here.
Regional Reporter
​info@regionalreporter.org
https://regionalreporter.org
Source: Regional Reporter