Recruiting for Good Rewarding Fun New Zealand Adventure and GoPro Cameras
Recruiting for Good is a staffing company that generates proceeds to fund and reward people fun fulfilling travel. New Zealand is the first destination rewarded in 2017.
Press Release
-
updated: May 11, 2016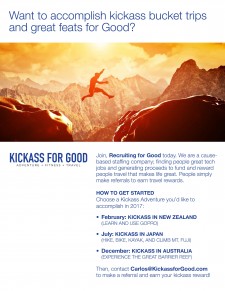 Santa Monica, California, May 10, 2016 (Newswire.com) - Recruiting for Good is rewarding travel for 10 people to experience a 15 day adventure trip to New Zealand in 2017 and to learn how to use GoPro. Awarded travel will be paid for by Recruiting for Good and hosted by small group adventure travel company G Adventures, through its 15-day G Adventures New Zealand tour departing on January 20, 2017. 
Each traveler who successfully participates in Recruiting for Good's travel referral service will also receive a GoPro camera, and expert training from Google Authorized
 photographer Jennifer Dobson during the trip. 
According to Recruiting for Good founder Carlos Cymerman, "People can also participate in Recruiting for Good to gift this trip to a family member or sponsor and reward a teacher too." 
Travelers who want to enjoy or gift the New Zealand and GoPro Camera Reward, must participate in Recruiting for Good's travel referral service by no later than July 15, 2017. 
About
Recruiting for Good, a fun cause-based staffing company, has been connecting talented technical professionals to great jobs since 1998. Our mission every year is to reward fun fulfilling travel. People earn travel rewards by making referrals. Every successful referral that leads to 1 person getting a job, equals 1 rewarded destination; 1 for 1. Participate in Rewarding Good Travel to help sponsor and reward military personnel, social workers, and teachers travel.
Jennifer is a photographer with a love of nature and a passion for travel.  Jennifer is also a Google-trusted photographer, an FAA certified drone pilot and a photographer member of the International Travel Writer's alliance.  She loves traveling and adventure which is why she loves GoPros.  "You can take them underwater or attach them to a drone - they are easy to pack."  To learn more visit www.renegade.camera
Source: Recruiting for Good
---
Categories: Travel, Lifestyles, Personal Growth
Tags: G Adventures, GoPro, Kickass for Good, New Zealand, Recruiting for Good, Rewarding Good Travel
---