RECKE Offering Collection of Quality MultiCookers
RECKE, a globally acclaimed manufacturer of home appliances, electronics, and other consumer essentials, is offering a complete selection of feature rich, stylish yet reasonably priced MultiCookers.
Press Release
-
Feb 26, 2016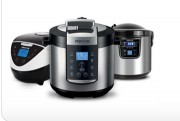 Hong Kong, China, February 26, 2016 (Newswire.com) - Courtesy customer centric approach, penchant for innovation and technological prowess, RECKE is making giant strides. Calling Hong Kong as home, the business conglomerate has gained acclaim by providing customers with high-end, durable and user-friendly products through a well-established distribution network in over 20 countries. A name that consumers generally associate with top of the line home appliances, electronics, and other consumer essentials, RECKE has unleashed a range of MultiCookers that makes cooking a convenient, healthy and hassle free experience.   

While explaining the motive behind introducing feature-rich RECKE MultiCookers, Mr. Suchit Kumar, Business Development Manager MEA (Middle East & Africa) at RECKE INDUSTRIES LIMITED, "Given the fast paced life, cooking may turn out to be a chore. We have taken the prerogative to challenge the status quo with its top quality MultiCookers. We are unleashing a complete range of MultiCookers including MC-110, MC-150, MC-X170 and MC-150 Limited Edition, each of which remains true to our principles of excellence, simplicity and durability. The diversity in MultiCookers ensures that the buyer has the liberty to choose a product corresponding to his unique requirements and budgets."     
 
RECKE's focus is product quality, which manifests in all its offerings including the MultiCookers range. The conglomerate has a team of seasoned professionals with in depth knowledge of market trends and technologies, which carries thorough inspections and quality control. Therefore, the buyer can rest assured of getting products adhering to norms and standards appreciated globally. More importantly, the RECKE MultiCookers range on offer comes at prices that are light on the pocket.    

Shedding light on the RECKE MultiCookers range on offer, the executive further stated, "Convenience is the defining feature of the RECKE MultiCookers. Be it cooking, cleaning or upkeep, the convenience factor is evident everywhere. When it comes to cooking, the user can proceed by placing ingredients into the MultiCooker. Following which, he has to choose an automatic cooking program, press "Start" button and relax. The MultiCooker will notify when the dish is ready. Additionally, the user is relieved from the hassles of reheating the food, as our offerings will keep the food warm for up to 24 hours."
RECKE MultiCookers come equipped with features that allow for trouble free, safe and healthy cooking. Scheduled startup, different fully automated cooking modes, user-friendly interface, child lock, and sterilization are few standard features of the RECKE MultiCookers. More importantly, the MultiCookers eliminate the need of investing on kitchen appliances such as oven, steamer, pan, fryer, slow cooker and microwave, thereby offering a cost effective solution. Ensuring safety, the MultiCookers come with features like overheat protection and sealed lids. Being compact, the owner can carry them outdoors for picnics and family lunches. Additionally, each of the RECKE MultiCookers comes with a recipe book featuring a variety of healthy food recipes for all occasions.

About RECKE:

Based in Hong Kong, RECKE is a manufacturer of top quality television, air conditioners and kitchen appliances including bread maker, microwave ovens, electric kettles and MultiCookers. The conglomerate makes its offerings available to buyers through a sound distribution network in over 20 countries. Over the years, RECKE's website has emerged as the best place to get quick and easy recipes for cooking.
Share:
---
Categories: Kitchen
Tags: Healthy Food Recipes For Dinner, Quality MultiCookers, Quick And Easy Recipes For Cooking
---