RECKE MultiCookers Come With an Exclusive Recipe Book Containing Delicious Recipes
RECKE is a reputable manufacturer of home appliances and electronics that offers a range of electric multifunctional cookers at reasonable prices.
Press Release
-
Feb 27, 2016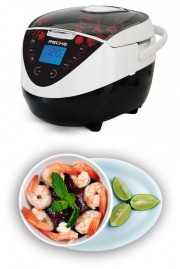 Hong Kong, China, February 27, 2016 (Newswire.com) -
In this fast moving era, electronic kitchen appliances come more than handy, as they not just allow quick and efficient cooking but also save a lot of space in small modern day kitchens. Addressing the cooking needs of modern families, RECKE, a leading manufacturer and supplier of home appliances and electronics based in Hong Kong, has turned up with an exclusive range of electric multifunctional cookers. Apart from being compact and elegant, RECKE MultiCookers are simple to use and thus, make cooking hassle free for even amateur cooks.
With the intent to give an insight into the range of electric cookers on offer, Mr. Suchit Kumar – Business Development Manager MEA (Middle East & Africa) at RECKE INDUSTRIES LIMITED, in a recent interview, asserted, "To avoid conventional ways of cooking, which usually become hectic and time consuming for working families, most of the people are turning to fast food that is causing various health issues. We strive to restore healthy eating habits among modern families, which is why we have produced a comprehensive range of RECKE MultiCookers, including MC-X170 MultiCooker, MC-110 MultiCooker, MC-150 MultiCooker, and MC-150 Limited Edition, so that customers can choose the right one based on their needs and budget. Easy to use and maintain, our electric cookers allow users to prepare healthy meals without wasting any time."
Being an automated multifunctional cooking machine, RECKE MultiCooker, as the name suggests, can cook, fry, steam, stew, bake, boil, warm up, slow cook, and do much more quickly and efficiently. It means that homeowners can now do without a number of conventional utensils like steamer, slow cooker, rice cooker, kitchen stove and fryer and thus, add extra space to their kitchen. RECKE MultiCookers come with non-stick ceramic-coated bowls that preserve natural taste and nutrients of the food to ensure good health of family members. In addition, RECKE MultiCookers come with a recipe book containing a large number of delicious recipes to allow users try new recipes and enjoy healthy food.
Elaborating the recipe book on offer, Mr. Suchit Kumar further stated, "We understand that no one likes to eat same food every other day. For food buffs looking to experiment with new recipes, we provide a recipe book containing up to 250 recipes that they can try at home whenever they get time or feel like. All they need to do is choose one of the recipes from the book, gather the necessary ingredients and put them in the cooker as per instructions. The best part is that RECKE MultiCooker requires less or no oil to prepare healthy meals. Moreover, users need not warm the food time and again as it keeps food warm for a longer duration."
Being a part of the business conglomerate associated with the business of home appliances, electronics and other consumer essentials, RECKE has a distribution network in more than 20 countries across the world. For those who are looking for electric cooker, the online store offers a range of RECKE MultiCookers that come with a recipe book where they can find good recipes to cook healthy food without wasting any time.
About RECKE:
RECKE is one of the leading manufacturers and suppliers of home appliances, electronics and other consumer essentials that offers an exclusive range of multifunctional cookers. Recently, the company has started distributing its products in the UAE through prominent retailers and online stores to ensure healthy food delivery in Dubai.
Share:
---
Categories: Cooking and Entertaining, Kitchen, Home Appliances
Tags: Find Good Recipes, Healthy Food Delivery In Dubai, Looking For Electric Pressure Cooker
---