Reach Analytics and Former Target VP Will Examine Customer Acquisition Solutions at DMA's Marketing Analytics Conference June 23
Bruno Delahaye, CEO of Reach Analytics and Ujjwal Sinha former VP of Business Intelligence at Target will be sharing the technological improvements that allow small and medium businesses to easily improve their customer acquisition campaigns ROI using self-service predictive marketing at the next DMA Marketing Analytic Conference.
Press Release
-
Jun 16, 2016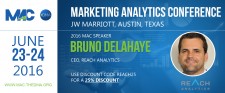 Redwood City, CA, June 16, 2016 (Newswire.com) - Reach Analytics, a cloud software company that provides targeted marketing leads for customer acquisition campaigns will participate in a conference session about customer acquisition at the DMA's conference in Austin, TX with Ujjwal Sinha, former VP Business Intelligence at Target.
Small and medium businesses are hungry for self-service tools that allow them to learn about their customers and how to implement targeting for customer acquisition campaigns.
At this conference session Bruno Delahaye, Reach Analytics' CEO and Ujjwal Sinha, both with deep experience across analytical strategies, will talk about the new predictive marketing landscape available to support small teams of B2C marketers.
The future of companies which could only identify marketing prospects by making very generic selections of prospect lists based on filters or going through lengthy predictive modeling processes is about to change in a dramatic way for the B2C market.
Combining advanced machine learning and data wrangling techniques as well as cloud computing enables marketers to generate detailed customer profiles within seconds and lists of highly targeted marketing prospects through predictive analyses within minutes.
Previously available in the B2B market, new solutions for the B2C market are bringing traditional customer acquisition approaches to a new level by enabling business leaders such as CMOs, Marketing Directors, and Circulation Managers to gain access to their best prospect lists within minutes of loading the names and addresses of their current customers.
The conference session goal is to bring a meaningful understanding of various customer acquisition solutions and help companies determine the best approach for their needs.
Source: Reach Analytics
Share:
---
Categories: Business News, Business to Consumer, Customer Relationship Management, Marketing, Non Profit, Business Intelligence, Cloud computing, Saas (Software as Service), Artificial Intelligence and Expert Systems, Banking, Finance, Insurance
Tags: analytics, cloud, customer acquisition, Customer profile, leads, list rental, marketing leads, marketing prospects, Predictive marketing, prospect list, Targeting
---