R.W. Chatman's New Book 'Last Man Out' is the Riveting Story Detailing a Covert Home Front Battle Between Dedicated Citizens and a Determined Saboteur
Recent release "Last Man Out" from Covenant Books author R.W. Chatman is a compelling WWII fiction revealing sacrifice, love, hope, and redemption as "war is brought to the doorstep."
Press Release
-
updated: Jul 14, 2020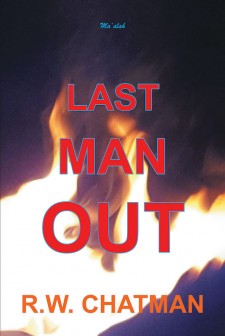 NEW YORK, July 14, 2020 (Newswire.com) - R.W. Chatman, a graduate of the USAF Academy and the University of Cincinnati, a former USAF Special Operations and Rescue Helicopter Pilot, a former senior scientist for the US government, and a retired Engineering Fellow with Raytheon System Company, has completed his new book "Last Man Out": an electrifying historical narration about citizens, soldiers, spies, and lawmen uniting to save a town and its coal mine from a saboteur during World War II.
Chatman writes, "The last weekend of May 1944, a saboteur is finalizing his plans to destroy the town of Scarlet Tanager, Kentucky, and its coal industry for the sake of his reputation, the fatherland, and the Fuhrer. The innocent will suffer, the uncommitted will cower, those who care will rally, blood will be spilled, fuses will be lit, and the earth will shake.
"Sergeant Jones, 82nd Airborne, jumped the 509 in Corbin, hoping to make the railway yard at the Scarlet Tanager Mine by evening; he never showed…
"Jenny Kearny, a high school teacher, fought to discourage the advances of the distinguished, intelligent, arrogant, persistent English gentleman twice her age; she failed…
"Bo Hanson, a graduating senior, hoped to 'accumulate' enough money to make it out of town before the draft board caught up with him; he came up short…
"Karen O'Quinly, a graduating senior, crested the ridge and headed into the hollow hoping to beat the storm home that night; she never arrived…
"Tom Polimar, a graduating senior, planned to share pie and plans by a quiet stream with the girl he had liked since kindergarten; he was waylaid…
"Julie O'Quinly, school secretary, planned on a joyful and festive evening, escorting and presenting her daughter at the end-of-school picnic and dance; her plans were frustrated…
"Dan Truman, itinerant deputy sheriff, resolved to save the town and its mines by standing between the saboteur and his target; he was forestalled…
"A saboteur purposed and prepared to set a fire in the throat of the mine; he succeeded…"
Published by Covenant Books of Murrells Inlet, South Carolina, R.W. Chatman's new book reveals the selfless dedication to duty of common citizens facing uncommon dangers and terror in the midst of a global war while honoring the past and securing the future for themselves and their fellow citizens. 
Readers are gripped by fictional yet realistic circumstances of war- come-home and inspired with hope by the drama of personal conviction and commitment. 
Readers can purchase "Last Man Out" at bookstores everywhere or online at the Apple iTunes Store, Amazon, or Barnes & Noble.
Covenant Books is an international Christian-owned and operated publishing house based in Murrells Inlet, South Carolina. Covenant Books specializes in all genres of work which appeal to the Christian market. For additional information or media inquiries, contact Covenant Books at 843-507-8373.
Source: Covenant Books
Share:
---
Categories: Publishing and Printing
Tags: "Last Man Out", Covenant Books, R.W. Chatman
---