Privacy Advocate Anonabox Launches Indiegogo Campaign, 'Project Blue', Featuring Limited Edition VPN Device
Proceeds to benefit legendary hacker, 'phone phreaker' John Draper as he writes his autobiography
Press Release
-
updated: Jan 19, 2016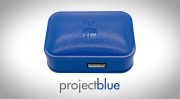 Chico, California, January 19, 2016 (Newswire.com) - ​​​​​​​Nearly a year ago, privacy advocates Anonabox closed out an extremely successful Indiegogo campaign, meeting its funding goal by more than 400 percent. Today, the industry's leading Tor and VPN brand launched its sophomore campaign.
Today, Anonabox launched Project Blue, a fundraising effort to give back to one of computer hacking's founding fathers, legendary hacker and "phone phreaker", John Draper. The 72-year-old Draper (also known as "Captain Crunch" or "Crunchman") is writing his autobiography, and Anonabox is helping to pay for publishing through this crowdfunding campaign.
"When we heard the Crunchman was writing his autobiography, we wanted to find a way to help him financially, as he writes his amazing life story," says Anonabox CEO Marc Preston. "This was an opportunity we simply couldn't pass up."
Backers of Project Blue can choose from several package levels, including the limited edition blue Anonabox PRO, a functional Project Blue whistle that doubles as a USB drive or signed John Draper memorabilia. The PRO router includes Tor and VPN capabilities, WiFi uplink, a USB port for filesharing and access to the Deep Web, among other features.
And, at Draper's request, additional proceeds will benefit the Tor Project.
The month-and-a-half-long campaign runs through March 5, and has no official monetary goal, as the Anonabox team hopes to raise as much money as possible to fast-track John's autobiography.
Draper's influence in early counterculture and computer hacking circles remains significant. His work with contemporaries Steve Jobs and Steve Wozniak helped pave the way for the founding of Apple Computer. Draper's is perhaps best known for the 1971 discovery that he could open up phone lines for long-distance calls by blowing a toy whistle found in a box of Cap'n Crunch cereal. Thus, the moniker Captain Crunch or Crunchman.
About Anonabox
Anonabox privacy routers provide a robust layer of anonymity and privacy to web browsing by routing Internet traffic over the Tor network or via built-in VPN services (Virtual Private Network). These measures cloak the user's IP address and location, allow the user to easily access the Deep Web, bypass censorship, and much more. To learn more about Anonabox, visit our website, or find us on Facebook, Instagram and Twitter.
Share:
---
Categories: Computer Hardware, Information Technology, Fund Raising
Tags: access Deep Web, Anonabox, captain crunch, deter big data collection, indiegogo, John Draper, limited edition, Project Blue
---