Prestige NY Team Benefits From Philanthropic Efforts
Prestige NY's President detailed a few of the firm's recent philanthropic endeavors she's most excited about.
Press Release
-
updated: Apr 6, 2018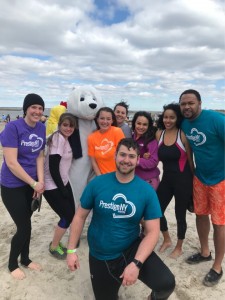 DEER PARK, N.Y., April 6, 2018 (Newswire.com) - "Our team at Prestige NY takes immense pride in the wide range of philanthropic efforts we have become involved in," stated Jessica, the President of Prestige NY. "In recent months, we've contributed to some organizations that are making huge positive impacts. We've built a stronger team in the process, while also sharpening our company's reputation in the marketplace."
Prestige NY executives recently participated in the Polar Plunge to benefit Special Olympics New York. Jessica commented, "This event raised money for more than 71,000 athletes in our area, and it was a freezing good time! We helped raise funds for athletes and caregivers so they could organize the best event possible."
Members of Team Prestige NY also chose to work with the Lupus Alliance by participating in its Lupus Walk Along event where they did fundraising and volunteered to do face painting for all of the children. This nonprofit raises funds to support people in the Long Island and Queens communities who struggle with this chronic immune system disease. The team was able to raise $10,000 to give to the organization. Prestige NY is proud to announce that they were the number one fundraising team that participated in the walk for lupus. "This philanthropy is especially important to our team as one of our executives has lupus. She has learned to live life and manage a business while living with this disease, while many others do not have the same opportunity. Not only raising money, but also supporting the research and treatment of this disease was a very proud moment for our company," says Jessica.
The firm's President noted, "Our associates also recently donated clothing to the United War Veteran's Recycling Organization. Some of our team members have served or have family members currently serving our country, so it was an honor to be part of giveback efforts that support our veterans." The Jay Fund, which supports families facing childhood cancer in both central Florida and the New York/New Jersey area, is one charity to which the firm frequently contributed. Jessica remarked, "During the holidays we focused our giving efforts on this organization. Our team put together gift baskets to make the season a bit brighter for families fighting childhood cancer."
Along with these pursuits, team members took part in a kickball tournament to support cancer research. The firm was also part of a larger effort to donate a combined total of $5 million for the Breast Cancer Research Fund. "We're always on the lookout for new options to make a difference in people's lives," Jessica said. "I'm sure we'll give back in a variety of ways as 2018 progresses."
Prestige NY's President on the Team Benefits of Giving Back
Jessica explained how much Team Prestige NY benefits from these types of giveback initiatives. "Along with a more positive reputation in the community, giving to good causes boosts morale. Our associates bring fresh motivation back to the Prestige NY office after every philanthropic event. Knowing that our firm cares is a source of pride for our people, and it helps them stay engaged from day to day."
Giving back also helps team members expand their contact lists. "We open doors to unexpected opportunities when we work with community leaders to support good causes," the President added. "By connecting with like-minded people who happen to be local business influencers, we add new allies who can help us reach more customers."
Source: Prestige NY
Share:
---
Categories: Business to Business, Marketing
Tags: Entry Level Opportunity, Management, Marketing, Prestige NY Careers, Prestige NY Deer Park, Prestige NY Events, Prestige NY Jobs, Prestige NY New York
---