PracticeWise Had Strong Presence at ABCT as It Celebrated Its 15th Anniversary
Press Release
•
updated: Dec 17, 2019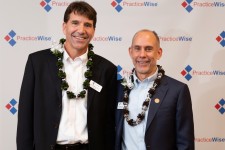 INDIALANTIC, Fla., December 17, 2019 (Newswire.com) - PracticeWise, a behavioral health company that helps those who are in the business of helping others lead better lives, celebrated its 15th company anniversary recently at the 53rd Annual Convention of the Association for Behavioral and Cognitive Therapies (ABCT). Numerous PracticeWise family members presented at key conference sessions, including co-founder Eric Daleiden, Ph.D., and co-founder and President Bruce Chorpita, Ph.D., who delivered the ABCT Presidential Address.
Dr. Daleiden was an invited panelist in a session titled, "How will Progress Continue After the Grant Ends? The Role of Purveyor Organizations in Sustainable Dissemination of Evidence-based Programs." Dr. Daleiden shared the stage with several other industry experts, including:
Matthew Sanders, Ph.D., Professor of Clinical Psychology at the University of Queensland and the founder of the Triple P – Positive Parenting Program
Allen Miller, Ph.D., Program Director for the Beck Institute for Cognitive Behavior Therapy
Dennis Embry, Ph.D., Founder and Senior Scientist at the PAXIS Institute
Ceth Ashen, Ph.D., CEO at C. Ashen Consulting, who was representing Carolyn Webster-Stratton, M.S., M.P.H., Ph.D., Licensed Clinical Psychologist, Professor Emeritus, University of Washington and the Founder and Program Developer of Incredible Years, Inc.
The group discussed the under-acknowledged role in the academic literature of purveyor organizations that exist separate from academic and research settings. These organizations serve to extend the reach of evidence-based programs (EBPs) by creating scalable business models and organizations to facilitate ongoing program development, dissemination, and implementation.
In addition to this panel, numerous other PracticeWise family members led, facilitated, and spoke at various workshops, panels, discussion groups, and professional events during ABCT, covering topics from building an effective workforce for the future to how the connection between science and practice can be enhanced.
One of the highlights of the conference was Dr. Chorpita delivering the Presidential Address that signified the end of his term as ABCT President. "Our field is on the verge of a revolution in how we make science actionable to realize the mission of mental health and wellness worldwide. It was thrilling to see such themes showcased throughout the ABCT conference, with industry, innovation, and impact taking center stage. I was especially proud to see the voice of PracticeWise so frequently represented," expressed Dr. Chorpita.
Bryan J. Stewart, PracticeWise chief executive officer, stated, "The 2019 ABCT meeting was a watershed moment and highlight of the year for PracticeWise. The meeting was punctuated by Bruce's challenging and inspirational Presidential Address. We also celebrated our company's 15th anniversary and enjoyed numerous events that prominently featured our products and services and passionate advocacy and leadership by our PracticeWise family members. I remain incredibly optimistic and passionate about how well we are positioned for continued impact. We are entering 2020 primed for growth in serving those that help children and families struggling with behavioral health challenges to get better faster and live their best lives possible."
For more information, visit www.practicewise.com.
Source: PracticeWise