PracticeWise and Uplift Family Services Present Together at CACFS to Celebrate Over Ten Years of Collaboration
Press Release
•
updated: Mar 10, 2020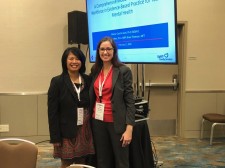 INDIALANTIC, Fla., March 10, 2020 (Newswire.com) - ​PracticeWise, a behavioral health company that partners with organizations and agencies to help kids get better faster, celebrated over ten years of collaboration with Uplift Family Services by sharing the podium at the California Alliance of Child and Family Services (CACFS) Winter Conference. PracticeWise Vice President of Training and Development, Teri Bourdeau, Ph.D., and Uplift Family Services Vice President, Research and Development, Eleanor Castillo-Sumi, Ph.D., presented "A Comprehensive Model for Training Your Workforce in Evidence-Based Practice (EBP) for Youth Mental Health."
Bourdeau said that the conference session was well attended, and the participants were excited to learn how the PracticeWise Managing and Adapting Practice (MAP) System could help them improve service delivery. More importantly, Bourdeau appreciated the opportunity to present with Uplift Family Services. "It was very rewarding to see the collaborative efforts between PracticeWise and Uplift Family Services result in a presentation to other agency administrators and providers so that they could learn and benefit from the positive preliminary outcomes of this initiative."
Uplift Family Services, then EMQ Children and Family Services, initially approached PracticeWise in 2008 to purchase a single-user subscription to the PracticeWise Evidence-Based Services Database, more commonly referred to as PWEBS. From this initial interaction, the relationship evolved to the point where Uplift Family Services wanted to blend the framework, tools, and resources contained in MAP with their Integrated Service Model (ISM) to form a comprehensive solution to their administrative and clinical needs, which included learning how to decide what EBPs to use when; how to retain staff that are certified in EBPs; how to sustain EBPs; and how to maintain productivity when staff are training.
"PracticeWise is a critical partner in our pursuit of clinical excellence. It is an honor to present with such a stellar organization that is making a true impact in the lives of children, youth, and their families and the clinical team that supports them," said Castillo-Sumi.
"The 2020 CACFS conference was a great moment for PracticeWise and Uplift Family Services to demonstrate how partnership and collaboration help the advancement of mental health care," said Bourdeau.
PracticeWise has several other presentations planned with key business partners, including the University of Southern California Suzanne Dworak-Peck School of Social Work where representatives from the two organizations will present at the National Association of Social Workers (NASW) National Conference this year.
About PracticeWise
PracticeWise helps those who are in the business of helping others lead better lives. We prioritize and deliver the best available evidence to enable behavioral health providers and the systems they work in to be as efficient and effective as possible by helping them to know what to use when based on knowledge and context. PracticeWise provides training, tools, and resources that help individuals working with children and families to help kids get better faster. To learn more, visit  www.practicewise.com.
Media Contact:
Elizabeth Counsman
e.counsman@practicewise.com
Source: PracticeWise