Polder Wins Two 2022 Good Design Awards
Press Release
•
Jan 11, 2023
Polder Products, LLC, has been awarded a Chicago Athenaeum 2022 GOOD DESIGN Award for excellence in product design, quality, and innovation on two of their latest additions to Polder's innovative line of kitchen products.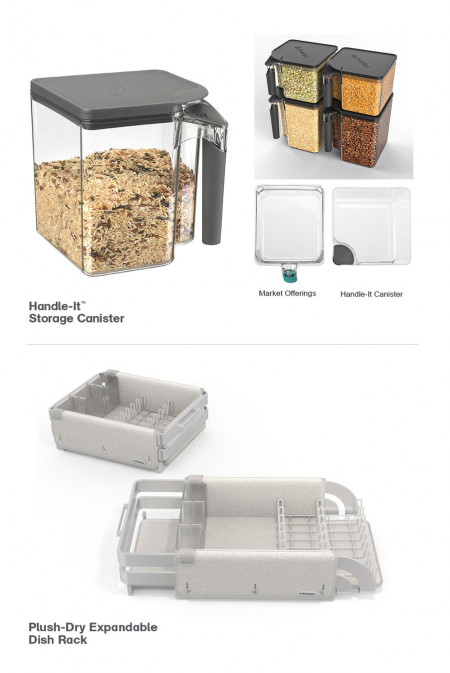 OXFORD, Conn., January 11, 2023 (Newswire.com) - Polder received 2022 GOOD DESIGN awards for their Handle-It™️ Storage Canisters and Plush-Dry Expandable Dish Rack. Both items offer next-step innovation to the marketplace by delivering high quality, patent-pending features that address common household issues of limited space, efficiency, and ease-of-use. Original features ranging from an integrated handle design on the canisters to the dish rack's use of microfiber instead of a plastic drain tray, pair well with elegant design styling to deliver a variety of benefits in the kitchen.
Polder's Handle-It™️ Canisters offer a category-first integrated handle design for managing larger volume food storage. By cleverly integrating the handle into the square shape of the canister, it offers significant strength for carrying and pouring as well as space savings in the cabinet. The handle has a rubber grip cover for comfort and aids in managing larger volumes, where other industry offerings require two hands to hold. This is especially useful for older and less-able consumers.
The Plush-Dry Expandable Dish Rack offers both expandability and innovative use of materials to stand out in the market. The dish rack is compact in its primary form and perfectly manages smaller quantities of drying items while looking elegant enough to leave out on the counter as a home décor piece. When the need for more space arises, the rack can expand to allow for larger volumes and items like pots and pans.
The construction of the Plush-Dry dish rack centers on a machine-washable microfiber mat as the primary drying surface. The mat is extra thick and has a rubberized underside to absorb all drain off that occurs. The Plush-Dry is also more eco-friendly than the current paradigm of using large plastic drain trays. This, plus a non-rusting frame offers users a solution that removes undesirable plastic trays and the need to be directly next to the sink to drain and-dry.
About the Good Design Awards:
Now in its 75th year, Good Design remains one of the oldest and most distinguished design awards programs recognized for excellence worldwide. Founded in Chicago in 1950 by Edgar Kaufmann, Jr., Eero Saarinen, and Charles and Ray Eames, Good Design continues to honor the annual achievements of the best industrial and graphic designers, and world manufacturers for their pursuit of extraordinary design excellence.
Winners are selected from among thousands of submissions from the world's leading manufacturers and industrial and graphic design firms from around the world, representing the most important and influential corporations in the design industry from over 55 countries.
Source: Polder Products, LLC.
Tags