Please Join Us: ANDRUS' 13th Annual Golf Fore Kids
Press Release
•
updated: Apr 25, 2017
ANDRUS announces its annual Golf Fore Kids event for Monday, June 5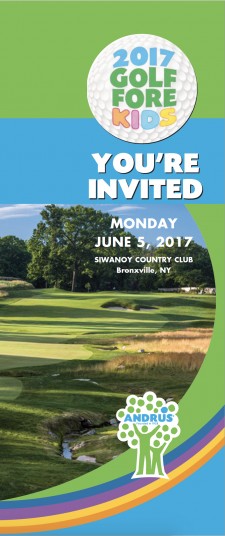 Westchester County, New York, April 25, 2017 (Newswire.com) - ANDRUS' 13th Annual Golf Fore Kids outing will take place on Monday, June 5 at Siwanoy Country Club in Bronxville, N.Y. At last year's event, over $150,000 was raised to help children and families through more than a dozen sites around Westchester County and support ANDRUS partnerships with local school districts.​
Co-chairs James Black of Blackstone Heating & Air Conditioning and Steve Condon of Benjamin F. Edwards are delighted at the early support from sponsorships and registrations. The Marty and Iris Walshin Foundation, Bleakley Platt, East Hill Cabinetry, Mercer, Mark and Jody Rollins, Barbara and Ed Smith, and Sterling National Bank are the first of many sponsors to support Golf Fore Kids 2017.
"Golf Fore Kids has become an ANDRUS tradition, and we are always thrilled to see the familiar faces that come to make a positive impact on our organization. Last year, ANDRUS was able to welcome many new faces as well, including one of our standout students from the Minibike Program. I continue to be amazed at the level of generosity of our friends, and their willingness to share the ANDRUS story with others truly makes the difference. We hope to have an even bigger turnout this year as we welcome all for our 13th annual outing!"

Bryan R. Murphy, ANDRUS President & CEO
The Golf Fore Kids event, held at the newly redesigned course at Siwanoy Country Club, will be complete with 18 holes of golf, a buffet luncheon, cocktails, dinner, and live and silent auction components. For more information on sponsorships and registration, visit www.Andrus1928.org.
About ANDRUS
ANDRUS nurtures social and emotional well-being in children, families, and communities by delivering a broad range of vital services and by providing research, training, and innovative program models that promote the standard of excellence for professional performance in and beyond our service community.
With programs on campus, in schools and within community-based settings throughout Westchester County, the nonprofit reaches almost 4,500 children and families each year from the New York Metropolitan area. ANDRUS also operates the Andrus Center for Learning and Innovation (ACLI) and the ANDRUS Sanctuary Institute, which has provided training and consultation to over 350 organizations worldwide in the use of a trauma-sensitive model for treatment and organizational change. Visit www.Andrus1928.org to learn more.
# # #
Source: ANDRUS