Pints in the Pines
Press Release
•
updated: Aug 28, 2017
An Autumn Ale Extravaganza in East Texas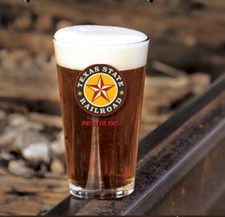 Rusk, Texas, August 28, 2017 (Newswire.com) - What could be better than sampling Texas-brewed beers aboard a historic train as it travels the Piney Woods of the Lone Star State? Savor the rich flavors of harvest season while enjoying the scenery and leisurely pace of a train ride with Texas State Railroad's Pints in the Pines. Ranging from light, summery Kolsch and wheat-rich Hefeweizen to high-octane lagers and IPAs, from coppery-red Scotch ales to dark stouts and chocolate porters, these craft beers may have German roots but all are produced in Texas breweries.
Departing at 6:00 p.m. on Saturday's Oct. 7 and 21, Pints in the Pines takes place on board the train as it travels between Rusk and Palestine and back. Texas State Railroad's very own version of "Oktoberfest" will include a souvenir tasting glass for each participant and a barbecue dinner during the stopover in Palestine. The return excursion to Rusk allows ample time for all craft beer lovers to savor a full serving of their favorite brew, comparing notes and sharing stories with friends and loved ones. Everyone must be 21 years or older to participate.
In our fast-paced world, folks often forget to slow down and unplug, to take time to savor tranquil moments big and small, to appreciate life and loved ones. An adventure aboard Texas State Railroad is the antidote to the modern world; back to wild forests, charming architecture, peaceful ranchland and vintage transportation. Historic steam and diesel locomotives take passengers on a 50-mile roundtrip adventure along the celebrated Piney Woods Route of East Texas. This quintessential daytrip, only a few hours from the metropolitan communities of Dallas and Houston, will create memories that last a lifetime. Steeped in local history, "The Official Railroad of Texas" whisks passengers back in time.
During the journey, the train passes over 24 bridges, including one over 1,000 feet long. Unusual railroad structures, such as the locomotive turntable located midway, dot the historic route.
Trains depart on a varied year-round schedule from either Palestine or Rusk. Passengers may choose to ride in cars pulled by diesel or steam locomotives, depending on time of year and day of travel.
For more information, visit www.texasstaterailroad.net or call 855-632-7729.
Source: Texas State Railroad
Related Media