Philippines Offers the Lowest Prices for UFC 202 Pay-per-View, Researched by VPNRanks
Press Release
•
Aug 19, 2016
The colossal rematch between Conor McGregor and Nate Diaz is upon us at UFC 202 and the cheapest location to purchase the pay-per-view (PPV) is from the Philippines. You can save more than 60 percent on the original price of the pay-per-view by changing your IP address to Philippines using a VPN. In USA it is priced at $59.99 USD while in Philippines you can get it for just $19.93 USD.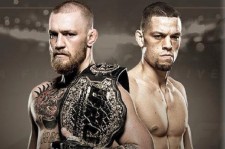 Singapore, Singapore, August 19, 2016 (Newswire.com) - In the history of UFC, there has never been a match of such intensity as the fight between Conor McGregor and Nate Diaz at UFC 202. The rematch is scheduled to take place on August 20th 2016 at the T – Mobile Arena in Las Vegas, Nevada. So what's significant about this fight?
Ever since the end of UFC 196, a rivalry ignited that no one had seen coming. Nate Diaz put a dent in Conor McGregor's invincible record by handing him his first career defeat. The victory over McGregor shot Diaz to stardom and made him a strong force in UFC. On the other hand, Conor has been itching to get his hands on Diaz after his loss and give him a beating of a lifetime.
VPNRanks.com is an online review & blogging website that keeps a close eye on developments that impact internet security and online privacy. The latest research by VPNRanks is just a part of the recent series of studies aimed to generate a transferable and practical understanding of user preferences.
Now there are many ways through which you can watch UFC 202 online. One of the ways is by purchasing the pay-per-view and enjoy the exclusive live stream of the fight on your preferred device. The best part? The prices of UFC PPV vary from region to region, and you get the PPV at low prices by changing your virtual location (IP address).
At VPNRanks, an experiment was conducted to find the cheapest place to purchase the pay-per-view. Two VPN services (PureVPN and ExpressVPN) were used to jump the digital fences, and different prices of UFC PPV were recorded. The results showed that in the Philippines, you would find the cheapest price for UFC pay-per-view.
To put things into perspective, the price of UFC 202 pay-per-view in the United States is $59.99. But when you switch your IP address to Philippines using a VPN, the price of PPV drops to $19.93 (when ₱920.00 is converted into USD). What this means is that you save around 67 percent on the original prices of the pay-per-view.
Therefore, a VPN can be your greatest ally with its IP cloaking ability. It will most certainly help all UFC fans to enjoy the fight between Nate Diaz and Conor McGregor at incredible low prices from anywhere in the world.
Source: www.vpnranks.com
Tags
Additional Links