Pequity Pioneers an Innovative Compensation Management Software Feature, Revolutionizing the Way Companies Measure and Monitor the Health of Equitable Compensation Programs
Press Release
•
Aug 9, 2023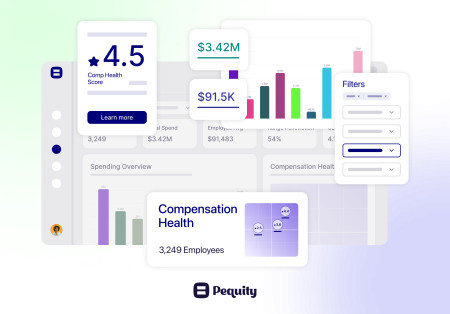 SAN FRANCISCO, August 9, 2023 (Newswire.com) - Pequity's People Insights + Comp Health gives compensation teams the ability to compare and analyze the equity of their compensation program for individual employees and across an entire employee population.
Pequity's new feature is a proprietary algorithm that gives compensation managers the ability to monitor the pulse of their compensation program and pinpoint disparities that need to be addressed.
Evaluating the performance of your compensation program can be a daunting task, even for companies with abundant resources and top-of-the-line compensation management software. While these tools serve their foundational purpose, they lack the depth needed to provide insights into execution and performance.
For the first time, Pequity users will be able to see an overall Comp Health score as well as a Comp Health visualization where they can measure compensation performance across job family, level, and location categories.
"A skilled people analyst simplifies complex concepts for communication and, as a compensation analyst, you measure various factors to pay for competitiveness and equity," said Kaitlyn Knopp, Founder and CEO of Pequity. "Our people analytics use visuals to analyze complex pay programs to provide clear signals on equity and competitiveness. Since our people systems' data is constantly changing, having your data in the system allows us to show basic measures without daily data cleaning. You have control to catch and adjust data errors directly on the platform, avoiding reliance on other teams."
Benefits of the new features include:
Tooling that makes it easy for HR+Comp team leaders to see metrics and get insights.
Filterable data sets allow you to dig into high-level Comp Health Score metrics.
Exportable data and reporting for each metric to share with those who need it, like executive stakeholders.
People Insights + Comp Health will be available for Pequity users starting Aug. 9, 2023. For more information on the new feature or to learn more about Pequity, visit www.pequity.com.
About: Pequity's goal is to enable better pay decisions and to decomplicate compensation. Our tools are built based on industry best practices using a data-backed approach. We work directly with companies to provide advice and create scalable tools to solve compensation challenges. Through our platform, we help reduce employers' time spent on compensation, while increasing pay parity for employees and reducing cost for companies.
Pequity is designed for:
Companies interested in building world-class compensation programs
Companies with one or more compensation team members.
Businesses with complex or time-consuming compensation practices.
Pequity is trusted by industry-leading companies like Instacart, Canva, and Uber Freight and has been instrumental in helping our clients balance millions of dollars of compensation budget while prioritizing equitable pay and time savings.
Source: Pequity