Pequity Announces Upcoming Launch of Employee Total Compensation Overview and Employee Portal
Press Release
•
Sep 27, 2023
Compensation management is a complex task that often leaves HR professionals struggling to convey the true value of employee compensation beyond the basic salary figure. Pequity's forthcoming release aims to simplify this process and provide a comprehensive total compensation statement for employees.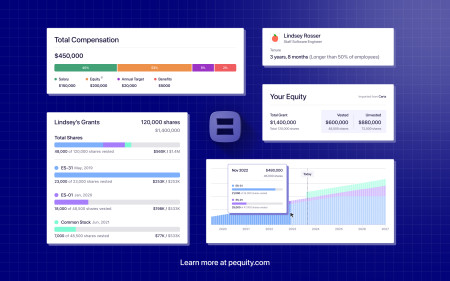 SAN FRANCISCO, September 27, 2023 (Newswire.com) - Pequity, a leading innovator in compensation planning solutions, is excited to unveil its latest offerings designed to revolutionize the way organizations manage and communicate employee compensation. In recent months, Pequity has been at the forefront of developing cutting-edge HR solutions, and now, it is set to introduce the Employee Total Compensation Overview and a brand-new Employee Portal.
Key Features of Pequity's Total Compensation Overview and Employee Portal:
Empowering Employee Portal-The portal will enable employees to access their personalized compensation overview by simply signing up for a Pequity account. This user-friendly interface makes it effortless for employees to gain insights into their total compensation package.
Clear Equity Display- Pequity eliminates the confusion surrounding equity compensation by presenting it at the grant level. This approach simplifies understanding and offers a real-time view of an employee's current equity status, enhancing transparency.
Comprehensive Admin View- Administrators will have access to a comprehensive view of all components of an employee's total compensation. This includes a breakdown of equity and vesting schedules, providing a holistic understanding of compensation elements.
This information is invaluable as it offers both administrators and employees a snapshot of their current standing and future earning potential as vested shares accumulate.
Equity compensation has become increasingly vital in today's workforce. However, it remains a complex concept that is often poorly understood. Pequity's Total Compensation Overview provides a detailed snapshot of critical equity statistics, including total granted, vested, and unvested shares, as well as estimated values for each.
The new employee portal takes transparency to the next level by offering a comprehensive breakdown of every compensation component. This empowers employees with unprecedented resources for negotiating raises, better financial planning, and ensuring they receive a comprehensive total compensation statement.
The compensation overview also serves as a powerful tool for administrators and managers. It breaks down salary, equity, and bonuses, making compensation discussions more accessible and transparent. Administrators can also customize the displayed employee data to suit their needs.
Pequity's Employee Compensation Overview and Employee Portal are set to launch in mid-October, marking a significant milestone in the realm of compensation management. To stay informed about the release and for early access, sign up for notifications.
About Pequity:
Pequity is a leading provider of compensation management solutions designed to simplify the complexities of employee compensation. With a commitment to transparency and innovation, Pequity empowers organizations to make informed compensation decisions, driving employee engagement and organizational success. Learn more at pequity.com.
Source: Pequity