Patricia Mince Raises Funds to Fight Breast Cancer
Press Release
•
updated: May 15, 2017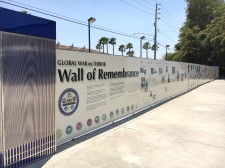 Santa Cruz, CA, May 15, 2017 (Newswire.com) - Patricia Mince has recently raised $100,000 to help in the fight against breast cancer. Furthermore, she has started a petition to ask the Wall of Remembrance to be moved to Oregon.
She says: "Breast cancer needs to be stamped out. That is my life's mission, and I will continue to help fight this disease until I fall over. I cannot thank enough the people who have helped me in this endeavor. $100,000 is a substantial amount of money that will make a huge difference. I'm not done yet, though, so watch this space!"
Patricia Mince survived a battle with breast cancer, so she knows firsthand how terrible the disease can be. She had herself tested for the breast cancer genes, BRCA1 and BRCA2. Like actress and human rights activist Angelina Jolie, Patricia wants to bring awareness to the cause. This is known as the 'Angelina Jolie effect,' as many women have been inspired by her decision to be genetically tested, and to take action as a result.
"A retrospective study performed at a Toronto hospital in 2014, for example, reported that the number of women referred for genetic counseling skyrocketed by 90 percent in the six months after Jolie's announcement. The number of women at the hospital identified as BRCA1 or BRCA2 mutation carriers during that period jumped by 110 percent."
For Patricia Mince, the message is clear: She will not be the next victim of breast cancer. "It gave me the determination to take the fight to cancer's door. I want to make a difference in the world and will do all I can to eradicate this horrible disease."
She is currently negotiating with the Breast Cancer Survivors' Network, which has created the remembrance wall to honor the women who lost their lives to the disease. She is currently petitioning them to move their wall to Oregon, or to start a second wall there. The said organization was founded by Janet Beebe, who also serves as an inspiration to Patricia Mince.
"Janet Beebe, a 32-year, 2-time survivor, after helping patients through other breast cancer non-profits since 1983, established The Breast Cancer Survivors' Network, Inc. (BCSN) in 2006 in Peachtree City (Fayette County, Georgia). Janet has continued her life-long commitment to help breast cancer patients and educate people on early detection and breast self-exams."
Mince adds: "What Janet has done for women the world over is tremendous and she truly is my inspiration. The key for me is that more women become breast aware, performing regular self-examination. Genetic testing is not for everybody, but examining your breasts is something you can do yourself for free, and it can save your life."
For Mince, and women like Beebe and others like her, the fight against breast cancer is on, and they will not stop until they have won.
Source: Patricia Mince
Related Media