Pacific Coast Custom Interiors Leverages SBA 504 Loan Program to Purchase Auto Repair Facility in Santa Rosa, CA to Expand Family-Owned Business and Achieve Sense of Security in the Aftermath of the Tubbs Fire
'The peace of mind for our family—knowing that nobody can kick us out or raise our rent--it's an amazing feeling.' --Ryan Nelson, Co-owner, PCCI
Press Release
-
updated: Mar 4, 2019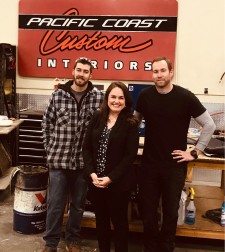 SAN FRANCISCO, March 4, 2019 (Newswire.com) - Capital Access Group (www.capitalaccess.com), a commercial real estate lender specializing in U.S. Small Business Administration 504 loans for growing businesses, recently helped the owners of Pacific Coast Custom Interiors (PCCI) to secure $1.4 million in total project financing through the SBA 504 commercial real estate loan program to purchase an 18,861-square-foot parcel containing a 5,490-square-foot auto-repair facility, located at 1232 Cleveland Avenue in Santa Rosa, CA.
PCCI is a  family-owned business led by brothers Ryan and Evan Nelson, second-generation upholsterers who spent the early part of their lives apprenticing under their mother, Elaine Nelson. Elaine continues to work in the business.
"We're a second generation of upholsterers," said Ryan Nelson, Co-owner, PCCI. "Mom taught us our trade. She used to work on cars in our garage when we were growing up."
The purchase represents a huge milestone for the Nelson family. PCCI had "plateaued" at its prior location, which had only six parking spaces and was a "logistical nightmare, trying to keep five people busy," according to Nelson. 
"Five days shy of our tenth anniversary, we fulfilled a ten-year goal of getting a space of our own," said Nelson. "We've got a new shop with a licensed and permitted paint booth, which means we can paint cars and do collision work and continue providing quality auto upholstery services for our clients. It's a huge asset."
Having the business on solid footing is especially important for the Nelson family after the devastation wrought by the October 2017 Tubbs Fire in Northern California. Ryan and Elaine lost their homes, and Evan was displaced when the wildfire devastated their Coffey Park community in Santa Rosa.
"The house was a big loss, but it's being rebuilt, and we're at the point now where I feel like we've come out stronger because of it," said Nelson. "It's really shaped us, who we are right now, and the adversity has really brought us all closer together." 
Buying the property at 1232 Cleveland injected new life and energy and delivered a feeling of security for the future of the family's business as well, according to Nelson.
"It feels like I'm living in someone else's shoes," said Nelson. "The peace of mind for our family, knowing that nobody can kick us out or raise our rent, and the stability of having that kind of long-term position in our market, for me, it's just amazing knowing that every dollar we put into it just keeps it in our family."
The SBA 504 loan's low, ten-percent down payment and competitive interest rates were attractive to the Nelsons. They were also impressed with the "due diligence" and "truthful commitment" they received from Jenny Tice, a business development officer at Capital Access Group.
"Jenny is one of the best people I've ever worked with on any business deal or customer service-related transaction in my life," said Nelson. "She anticipated everything possible that could complicate or slow the process down. Her due diligence, skills and knowledge, and truthful commitment to getting this done–honestly I don't feel like it would have happened without her."
"I was beyond excited to be able to help Ryan and Evan purchase this facility to expand their family business and to achieve peace of mind after losing their homes in the Tubbs fire," said Jenny Tice, Business Development Officer, Capital Access Group. "This loan illustrates why small business owners need access to the SBA 504 loan program, not only for access to low down payment, fixed-rate, long-term financing, but also for the security and peace of mind it brings to the owners."
Today, PCCI has a five-person team of journeyman trimmers (including Mom) working in the new facility and plans to hire additional staff later this year.
"We have a good reputation in our area, so when people found out that we're adding different types of services, including body and collision work, they are already reaching out to get on our list to do business with us," said Nelson.
About Capital Access Group: Capital Access Group is a leading statewide Certified Development Company based in San Francisco, authorized by the U.S. Small Business Administration to provide long-term, fixed-rate financing through the SBA 504 loan program, which offers 90% financing to business owners for the purchase, renovation, or construction of commercial real estate for their growing businesses. Founded in 1981, Capital Access Group has helped thousands of entrepreneurs grow their businesses and realize their dreams of owning their own buildings. Currently, the SBA 504 interest rate is 4.64%, fully amortized and fixed for 20 years. For more information, please visit www.capitalaccess.com.
###
Source: Capital Access Group
Share:
---
Categories: Small Business
Tags: automotive, buy the building, Coffey Park, commercial real estate, SBA 504, SBA loan, small business, Tubbs Fire
---